Every couple of months I play a little game that I like to call "musical furniture", where I switch out side tables, art, lamps, etc, and try to breathe new life into a space without spending a lot (or any) money. My husband hates doesn't love this game as much as I do. He becomes my heavy lifter and handy man, and is asked "what do you think of this?" about a thousand times. So last weekend, against his pleading, I decided that our dining room needed a facelift. The room has been in a sad state, with a half finished gallery wall, and I just wasn't feeling inspired by the direction I had initially taken with it. Well what better way to make a room more inviting than adding some booze! Am I right?
I did some research on Pinterest and found these little beauties:
I love all the black & gold, and the sophisticated, glamorous look.
Via
This bar has a much more laid back, fun, summertime feel. The striped paper straws really add a punch of whimsy.
Via
Wow! This last bar makes a statement, especially with the funky Jonathan Adler "Uppers" jar, and the pink and chevron chair. This bar screams "I'm a party animal!"
There seems to be an easily replicated trend with these bars:
-Touches of black & gold
-Trays to group the liquors
-Flowers
-Cookbooks
Ok, I have all of the above, so I'm sold. I want a bar. I NEED a bar. Musical Furniture time.
I moved a media cabinet from our upstairs living room/playroom, and styled it into this: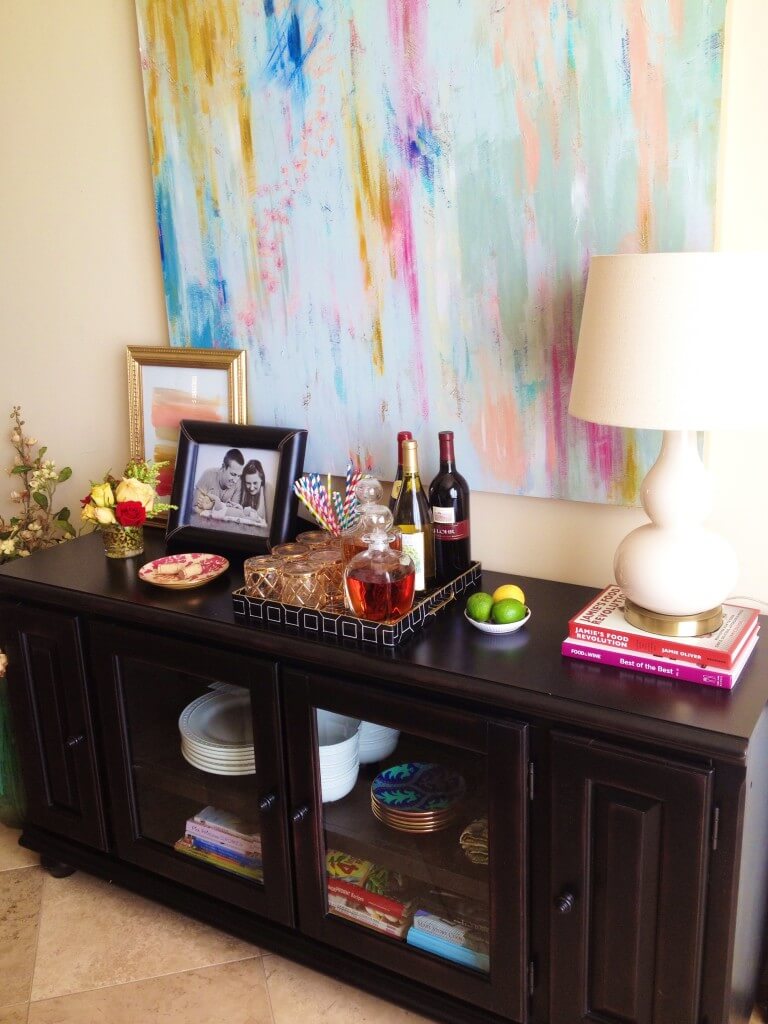 What do you think? I added plenty of black & gold, I used a fun tray to group my liquor and glasses, added some striped paper straws, cookbooks, and flowers.
This perfect fall & winter drink should make my husband happy that we have a bar during the cooler months too.

Spiked Apple Cider:
Ingredients
1/4 gallon apple cider
1/2 cup dark rum
1/2 cup cinnamon schnapps
1 Granny Smith apple, peeled, cut into large chunks
1/2 lemon, juiced
Directions
Mix together the cider, rum, and schnapps in a large pitcher. Add the apples to a small bowl and toss them with the lemon juice. Thread the diced apples onto skewers. Pour the spiked cider into glasses filled with ice, then garnish with an apple skewer and serve.
Recipe Via
Enjoy!