I came across this picture on Pinterest, and well, I fell in love and then realized I could easily DIY something similar. So off I went to Michaels to grab lace & fabric glue. I found one of Camryn's old'ish sweaters that will be perfect for Valentines, and started DIY'ing away.
This is SO easy, and requires very few items. 1 roll of lace, fabric glue, scissors, and your shirt or sweater of choice.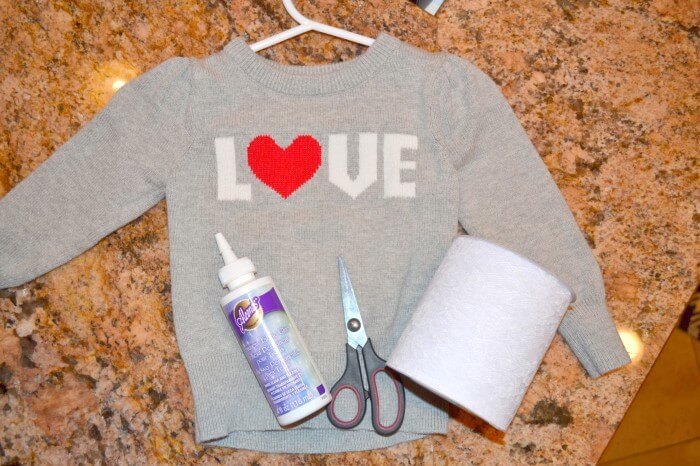 Cut your lace into the shape and size you need. Apply glue to sweater, and then place your lace on top. I used a small paint brush to add additional glue on top of the lace, just to seal everything together. The glue dries clear, is flexible, and can be washed (turn garment inside out).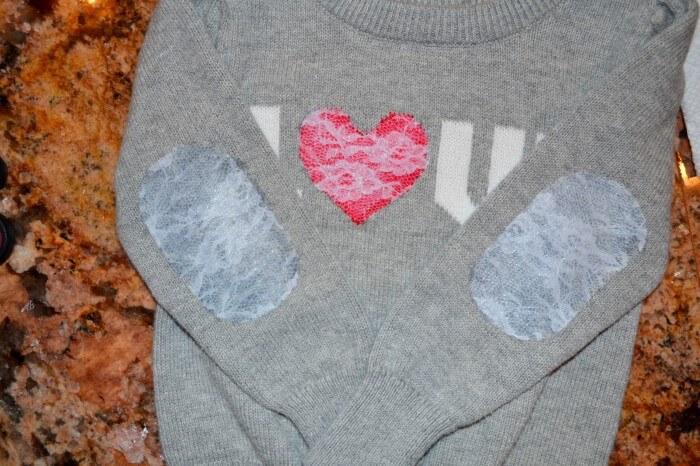 The glue takes 24 hours to fully set, but I'll update with a picture of Camryn wearing it tomorrow. This was quick, easy, and cheap, and it will look so cute on V-Day. I'm tempted to go cut up one of my own sweaters and try to replicate the first image now…
Here's a tutorial for adding wool elbow patches to a shirt or sweater.
Happy DIY'ing. XO – Samantha
UPDATE:
Here are the pictures of Camryn wearing her sweater.