Hello party animals! (That's what you are to me if you don't have a newborn, and you get to sleep all night and stay up late without fear of getting absolutely no sleep that night. I envy you. I envy my "party animal" days. I hate anyone who gets to sleep in past 7AM.)
Today I thought I'd share all the mommy & baby items that I have been loving and couldn't have made it through the past 2 weeks without. Starbucks should also be on this list, but lets be honest, I can't survive any week without that.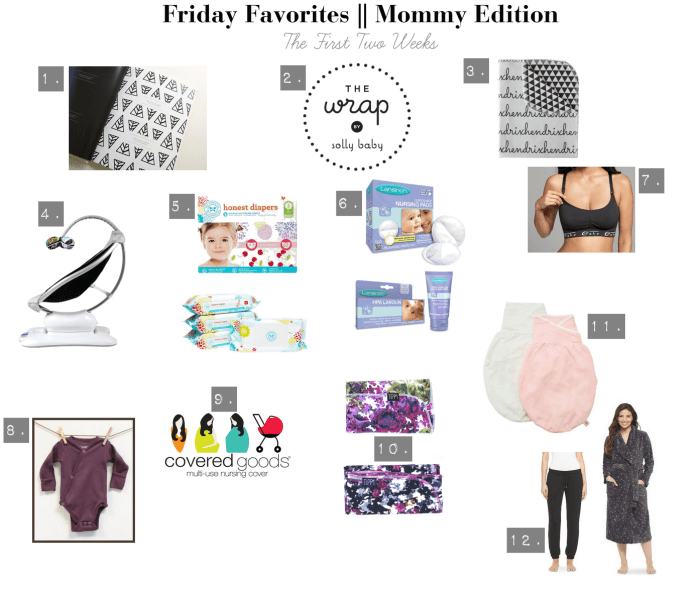 1.|| Mushy Books – Babies grow so dang fast!! Harpy has changed overnight from a teeny tiny 5 pounder into a chunky cheeked 7 (I'm guessing) pounder. I cannot document our time with her fast enough or often enough. Our Mushy Book is the most beautiful, and modern, baby book. I have been absolutely loving this baby book!! It's such high quality, and unlike many of the typical baby books you'll find in baby stores. I have the "Dreamcatcher" theme, but also love "A Star Is Born".
2.|| Solly Baby Wrap – Harpy likes to be snuggled 24/7. My Solly wrap is lightweight (necessary for Texas weather), super soft, has a built in pocket to hold my phone, keys, etc, and she loves being in it. I have the color Mauve.
3.|| Jennifer Ann Style Custom Name Blanket – Ok, totally unnecessary, but also an absolute MUST HAVE! This blanket is thick, velvety on one side and silky on the other, and everyone loves it…literally, every single person comments on it and asks where it's from. Best baby gift ever.
4.|| MamaRoo – This was a recommendation from a few of my besties, and they were so absolutely right – I did need this in my life. This kick ass little machine mimics my movements (as well as things like the car) to calm Harps and rock her to sleep. She loves it. My husband loves it. I love it. It's smaller than most baby swings and it's crazy easy to assemble and clean.
5.|| Honest Products – We all want the healthiest, safest, 'best' products for our babies, don't we? I feel like the Honest products are exactly that. Us moms have enough to stress out about, and these products make me feel like I have one less thing to worry about. They're good for my baby, good for the environment, and they deliver. Ok, you're right, they had me at "we deliver". Click here for a Free Trial*
6.|| Lansinoh Double Breast Pump, Pads & Cream – Must haves if you're going to breastfeed. There will always be a use for a pump, wether you plan to go back to work after baby, need to increase your milk supply, want time off for a few hours (you'll need this, trust me), or just want to share in the joy of feeding your baby with your husband or family. The double pump is fast, effective, and best of all, easy to clean! I also love the nursing pads & breast cream from Lansinoh. I love that the pads come individually wrapped so I can throw some in my bag and not worry that when I go to use them they'll be covered in Camryn's goldfish crumbs lining the bottom of my purse. I purchase mine at Target.
7.|| Cake Nursing Bra – I didn't understand the importance of good nursing bras when I first brought Camryn home from the hospital, but I learned that lesson quickly, and this time around I made sure to invest in quality (and uber comfortable) bras. My friend suggested the Cake brand bras, and they are the bomb diggity. I wear the "Cotton Candy" sports style bra most often. It's also easy to wash.
8.|| L'oved Baby Kimono Onesie – Hands down, the best onesie for newborns!! Dressing babies is not easy; they flail, cry when they get cold, are limp, and fragile. This onesie makes dressing a baby so easy. The kimono design saves you from trying to pull anything over babies head, and the sleeves even have built in gloves to prevent baby from scratching their face (my favorite!!) I own at least half a dozen L'oved Baby items and they are all fantastic – this has become one of my favorite organic brands.
9.|| Covered Goods – This nursing cover is so multi-purpose. I use mine as a carseat cover, blanket in the car when I'm in a pinch, and nursing cover. Even when I'm not concerned with covering up for feedings, sometimes I'll use my cover just to allow Harpy to focus on eating instead of being distracted by her big sister yelling and jumping around waving toys at her. I have the black & cream stripe.
10.|| Tippi Snugs – These lightweight blankets are super stretchy, and perfect for swaddling, covering the carseat, or wrapping up baby when it's not too cold. They are so beautiful in person, and so soft. You've probably seen these all over my Instagram and in our newborn photos because I love the floral pattern and colors so much.
11.|| Ergo Baby Swaddles – We swaddled Camryn for 6+ months and she would sleep 12 hours if she was swaddled. She would calm down instantly and fall asleep with a little white noise in the background and be so soothed. I have been swaddling Harper with the Ergo baby swaddles and love them. Some swaddles on the market don't tight enough, and basically don't work the way they should for that reason, but these adjust to even the smallest baby and get plenty tight.
12.|| Target Pajamas Pants & Robe- I'm pretty much living in these pants and robe. They're so comfortable, and the pants can be worn in public without looking like you're in pajamas, which saves me when I have to pick up Camryn from school. The robe is fluffly and snuggly and perfect for winter. Everyone should own them.
What are you're favorite mama/baby items?
XO – Samantha
*Disclosure: I received my Lansinoh pump free from Influenster to review. As always, my opinions are my own.*