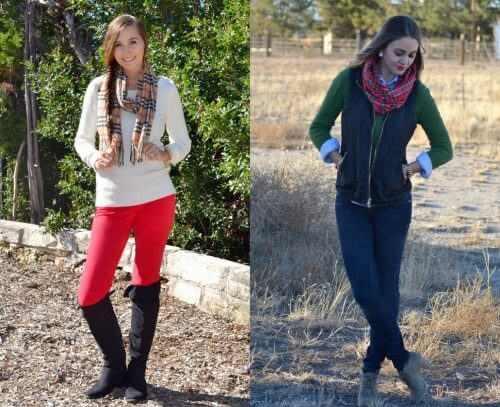 I had the wonderful opportunity of teaming up with Jessica of Afternoon Style to show you guys how we transition our wardrobes from fall to winter. We didn't plan our outfits together, and yet we look a bit like twinsies! Jessica and I are both battling indecisive weather, so layering is essential. One minute it's 80 degrees, the next it's cold, windy, and raining. I hope you enjoy what we've put together!

~

Hi there! My name is Jessica and I blog over at Afternoon Style, a fashion and lifestyle blog. I live in Colorado with my husband- where we both go to school. I am senior in my program, studying communications and marketing. I am so excited to be here on Playdates and Pearls today, so that Samantha and I can show you how we transition fall looks into winter wear. Here in Colorado, it tends to get freezing around this time of year. However, Colorado is also very bi-polar so you never really know what the weather is going to do. Last weekend, I was out on a date with my husband and it was soooo cold. It is indeed that time, when the weather starts getting cooler than just fall weather. Because the weather can be so unpredictable here, I love dressing in layers, as does Samantha [in Texas]. For this outfit, I layered up with an oxford top (they are my absolute favorite), a green thermal top, a black puffer vest, and a chunky plaid infinity scarf.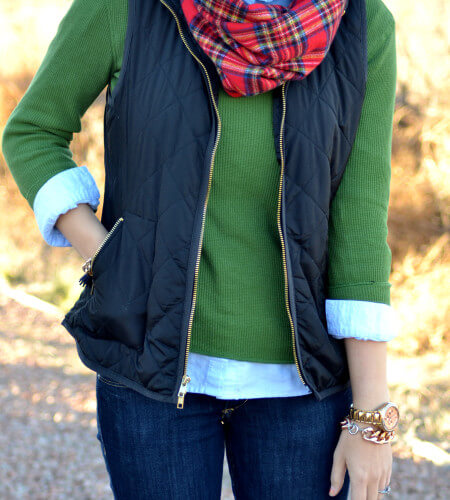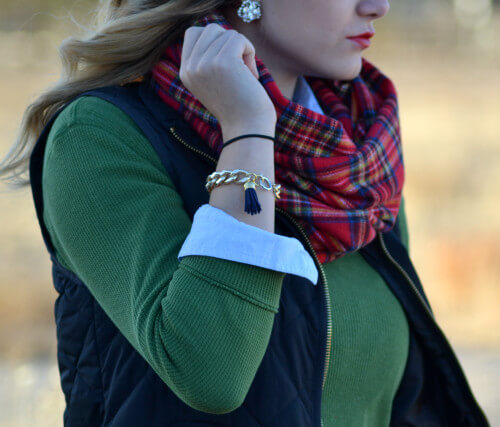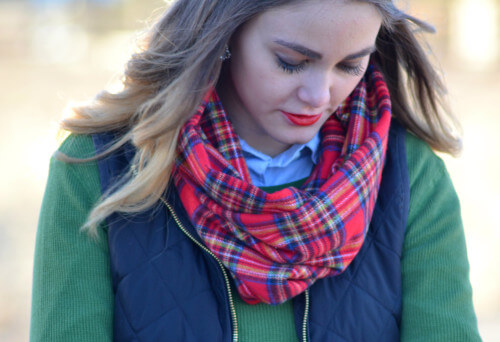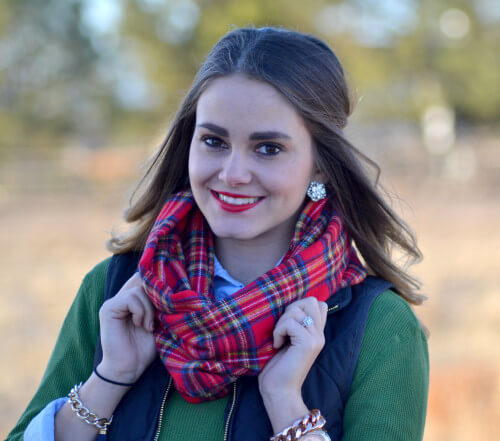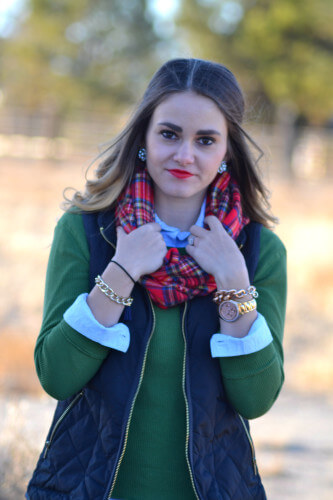 This outfit is the perfect way for me to transition into the winter season. If the weather is really cold, I am good to go and if it decides to suddenly change then I have the option of not wearing the vest or the scarf… and the outfit will still look pulled together. What is your favorite way to layer in the colder months of Winter? Vests? Scarves? Coats? Sweaters?
Be sure to visit me over at
Afternoon Style
to see the rest of Samantha's look and to see my other style posts. You can also find me on bloglovin'
here
!
~
We even had matching tassel bracelets…great minds think alike, right?! Thank you so much Jessica!
XO – Samantha