1.|| This beautiful blue & gold kitchen – I could really have fun cooking dinner in here! You think they knew Pantone would pick "Dazzling Blue" as the 2014 color of the year?

2.|| I have been using the Cambell's Slow Cooker sauces the last few weeks, and YUM!! My favorite so far is the Moroccan Spiced chicken. I love pulling out my slow cooker in the fall and winter and having warm, comforting meals, that take very little effort.
3.|| After reading this article over on Kristin's blog, I was so inspired to start taking classes with shootFLYshoot. I've had a Nikon DSLR for over a year, and it's been on my to-do list to finally learn how to really use it. I love that their classes are done through videos, because I'm a very visual learner. Who wants to take a class with me? Let's do this!!
4.|| Is wearing makeup a betrayal? This girl was given quite the transformation, and has a lot of people saying it's deceiving. Leave me a comment below telling me if you think she's "tricking" guys.
5.|| This print is so sweet, and would look great in a girls bedroom, or nursery. The words really resonate with me.
6.|| I bought these jeans last weekend at H&M for only $19.95 and I'm in love. They do not feel like $20 jeans. I am definitely buying a few more pairs!
7.|| This hilarious article about kids that were raised right. #22 is so stinkin adorable.
8.|| Saks is having their Friends & Family sale – 25% off with code FRNFAM. I want these, these, (in my dreams) this.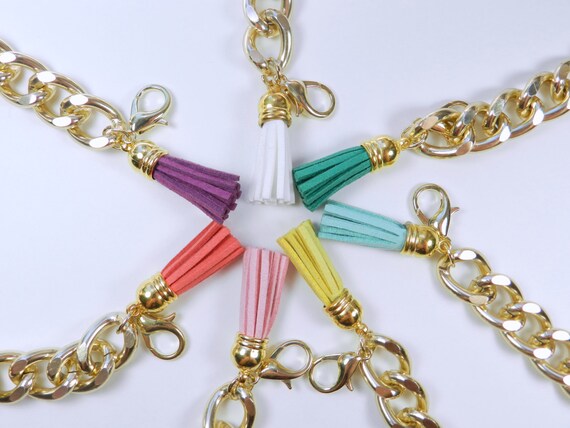 9.|| These gorgeous BipAndBop tassel bracelets. If you missed yesterdays post, BipAndBop has generously given all of my readers a 15% discount. Use code "SAMANTHA" at checkout. (Valid until 10/31)
10.|| The Kate Spade collection for Swoozies is out, and in typical Kate fashion, everything is adorable. These will be my holiday cards.
I hope you all have a wonderful weekend! Don't forget to enter the POPSUGAR must have giveaway if you haven't already.
XO – Samantha