I have been testing out a few face masks, and I wanted to share some of my favorites with you.
#1|| Ren Glycolactic Radiance Renewal Mask : Retails for $55
This mask contains 4 acids – lactic, glycolic, tartaric, and citric – to gently exfoliate the skin, revealing a healthier, glowing complexion. It is suitable for most skin types (those with very sensitive skin should avoid) , but those with mature skin, or who suffer from acne-scarring, sun damage, and blemishes will receive the best results. Ren's products come in very clean, no-fuss packaging, and I quite like that this mask has a pump. When applying the mask, you'll notice the thick honey-like consistency, and the slightly warm sensation. It contains citrus fruits, as well as grapes, and papaya which make this mask smell INCREDIBLE!
The directions say to apply to clean, dry skin, and wait 10 minutes before removing with the provided muslin cloth.
Unlike most masks, results are typically noticeable immediately. I've used this product for nearly 2 years, and every time I remove the mask my skin is significantly more radiant, and feels so soft. I notice that my foundation applies more evenly, and doesn't have any dry patches after I've used this mask. This is definitely my holy grail mask as of now.
#2|| Korres Greek Yoghurt Advanced Nourishing Sleeping Facial: Retailes for $45
This mask is like your favorite moisturizer on steroids! Sephora describes it as "A weightless soufflé powered by super-charged proteins that melts into skin and works overnight for intense, immediate moisturization." It has a lotion texture, but feels slightly like a gel when you apply it. It soaks into the skin quickly, but leaves behind a silky, slightly wet residue. I enjoy the smell of this mask, it reminds me of the Olay lotions.
I use this mask when my skin is feeling dehydrated, or needs that extra TLC. Because this mask is clear when applied, and simply looks like a moisturizer, I like to take this with me on flights. Planes are so harsh on your skin, and always leave my skin looking dull, dry, and just plain sad. I like to apply this mask as soon as I get on the plane, then I cleanse my face after I land and reapply this mask before bed. My skin feels plumped, hydrated, and radiant the next morning.
#3|| Origins Clear Improvements Active Charcoal Mask to Clear Pores: Retails for $16-$24
This is the mask I grab when I have a breakout, or notice blackheads popping up. The active charcoal "acts like a magnet to draw out deep-dwelling pore-cloggers", and the white china clay helps to absorb environmental toxins. There are a million products on the market that advertise to "reduce pore size", but your pores don't just open and close. If your pores look large, they are probably clogged with dirt and oils that need to be extracted. Skip the gimmicky products and just start exfoliating regularly, and grab yourself a bottle of this. Bonus: Since it's gray, you can convince your boyfriend/husband that this is a "manly face mask", and help his skin out too!

The mask is creamy, and dries like all other clay masks. Apply, let sit until it hardens, and then remove with warm water and a washcloth. Easy!
Here are a few masks that I want to get my hands on ASAP:
Dr. Jart+ Water-Full Hydrogel Mask: Retails for $9/per mask, or $45/5 masks
GlamGlow Supermud Clearing Treatment: Retails for $69
Those will definitely be in my shopping cart as soon as Sephora starts their Beauty Insider Sale!! Do you guys have any other face mask recommendations for me, or masks that you'd like to have me review for you? Leave me a comment below.
I'll also be posting about the masks I've tried and liked the LEAST for you soon.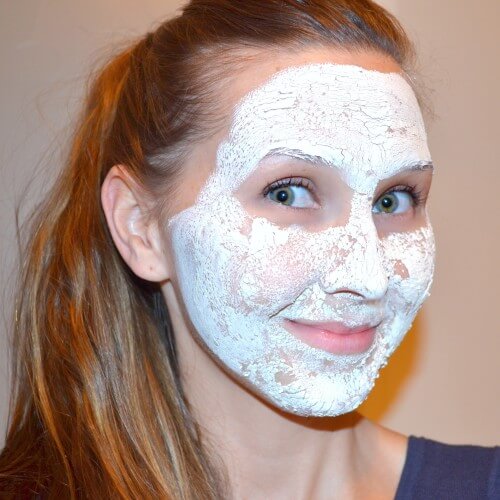 A review post on face masks just wouldn't be complete without a creepy selfie of me getting my "mask on", now would it?!

XO – Samantha