A few months ago, I was sent free samples of the Rodan + Fields product lines to play with, and I wanted to review the 4 regimens with all of you.
Rodan + Fields was created by the Drs. Katie Rodan and Kathy Fields, the dermatologists who created Proactiv. Their approach to skincare is basic; "The right ingredient, the right formulations, and used in the right order." I tested four regimens, with a one week break between each.
My skin is combination, but tends to lean more towards dry. I get occasional hormonal breakouts, and suffer from dark pigmentation from the sun and natural freckling. My biggest concerns with my skin are aging, dryness (dry patches that are visible after applying makeup), and dark spots. I try to wash my face twice daily, and exfoliate twice a week. I also enjoy using face masks at least once a week, typically for exfoliation and brightening dull skin, or for acne concerns. I am a firm believer in investing in quality skincare, because it's the only face you're ever getting.
I will review each regimen individually. As always, my opinions are my own.
"The biggest culprit in aging skin is sun exposure, and your drinking, smoking, stress and sleep habits play a role, too. Skipping sunscreen, imbibing too often, coping ineffectively with stress and sleeping on your side or stomach can all exacerbate and create wrinkled, adult acne and texture changes." Dr. Kathy Field, Ladies' Home Journal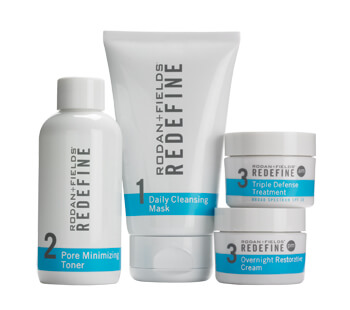 Regimen #1: REDEFINE (Anti-Age)
Claims: REDEFINE claims to smooth, visibly firm, minimize, and defend your skin from harmful rays.
I wanted to start with this regimen because it was by far my favorite. The facial cleanser is unique, and is applied like a cream cleanser but left for approximately 2 minutes (or until dry) and then rinsed. It feels similar to a clay mask, and left my skin feeling clean and tightened. I followed the cleansing mask with the pore minimizing toner, and then the day or night creams. I really appreciated the SPF 30 in the daily moisturizer, which prevents any of my dark spots from becoming darker from sun exposure.
It typically takes weeks (sometimes months) before you will see significant changes in your skin when using a new product, and as my samples only lasted 2 weeks, I hadn't had high hopes of seeing anything major. To my surprise, I noticed my skin felt plumper, and less dull in appearance. I hadn't realized how dehydrated my skin had been, and was really amazed at the dewy, radiant complexion that I had after just 2 weeks. I did not see any difference in fine lines, but I did feel as though my makeup was applying more evenly and wasn't settling into any of the lines around my eyes or looking patchy or dry. I was genuinely sad when I ran out of this sample.
This is a skincare line that I will absolutely recommend to friends and family. I love that Rodan + Fields offers a 60 day money back guarantee, and has reps all over the country who can help you discover the products that will work best for your skin type and needs.
I just want to reiterate that I am NOT being compensated for this review and I am NOT a Rodan + Fields sales rep. I really just loved the REDEFINE regimen, and wanted to share my thoughts on this product.
Paula Bronleewe is my Rodan + Fields representative, and will gladly answer any questions you may have, and guide you in determining which regimen is best suited for you. I linked back to all the products mentioned in this review if you are interested in reading about the ingredients, pricing, or additional products (masks, macro exfoliator, etc). I'll be reviewing the other 3 regimens, SOOTHE, REVERSE, and UNBLEMISH, over the next few weeks.
You can email Paula at prbronleewe@gmail.com.
XO – Samantha