Hi ladies & happy hump day! The weather in Austin has been getting warmer and warmer, and Camryn and I have been spending almost all our time outside this week. Yesterday we played on our upstairs balcony, shared cakepops, and splashed in her water table until we needed baths.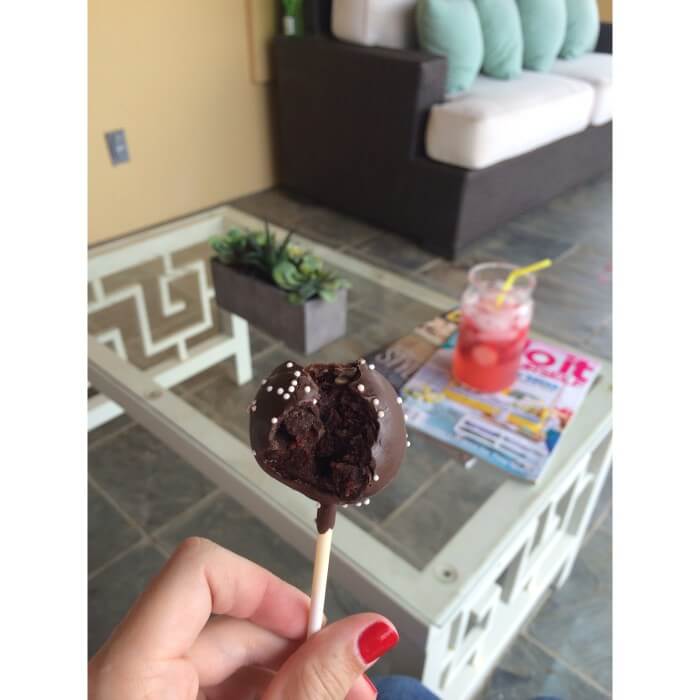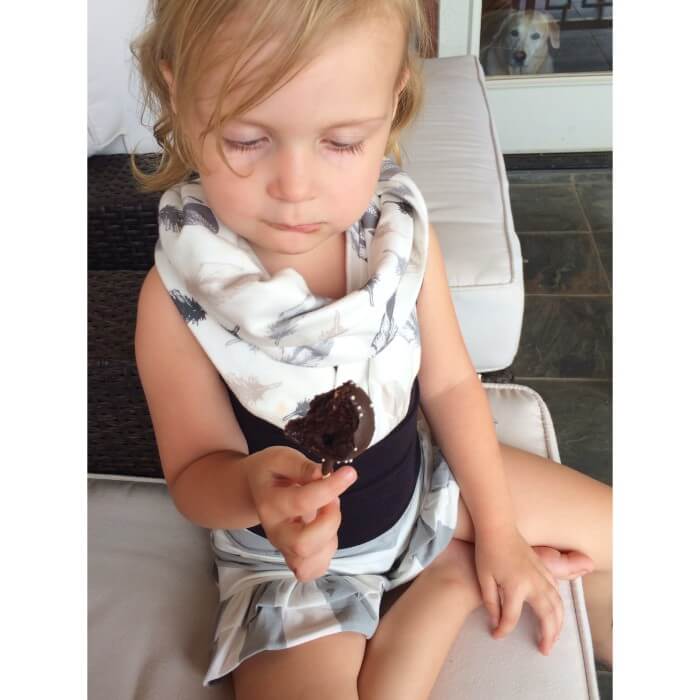 Our sweet friends over at Taylor Joelle have their newest line "Sea Me Twirl" launching today, and I wanted to show you the darling bloomers/shorts they sent to Camryn. She wore them all day and couldn't stop twirling around and calling them her ballerina shorts. She thoroughly enjoyed jumping in them too and watching the frilly bottoms. It's the little things that count.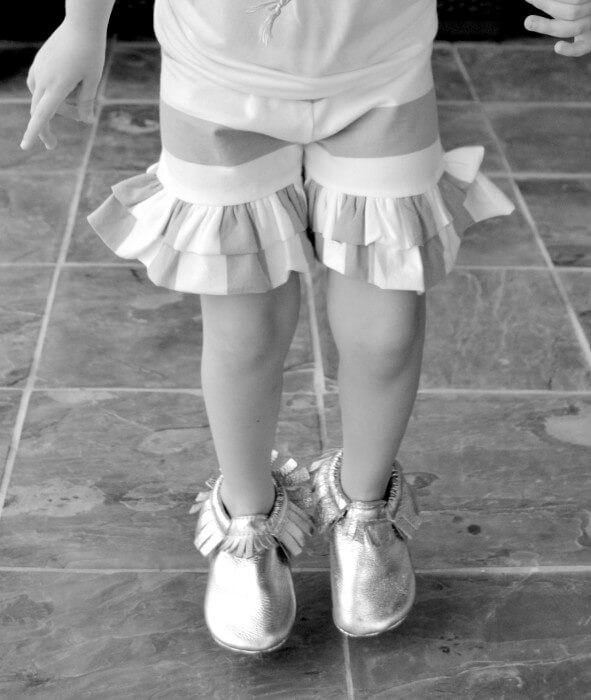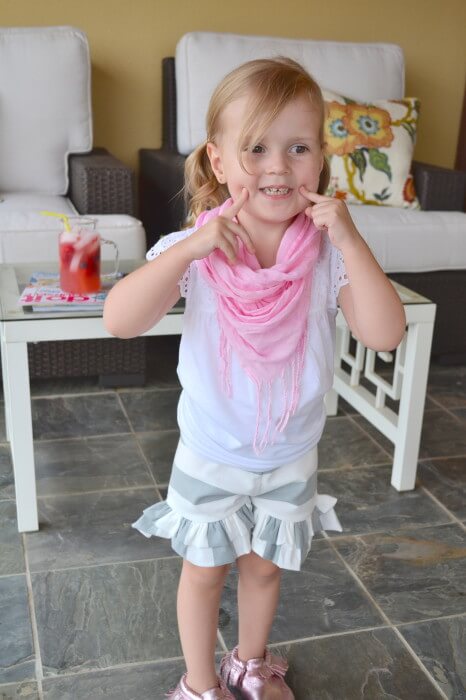 I styled two outfits to show you options for these darling shorts. A simple white t-shirt with lace detail around the sleeves, a pink scarf, and frosted rose Freshly Picked Moccs for the first outfit. A black unitard from Target, black gladiators (also Target), and her feather infinity cowl from Vonbon for the second outfit.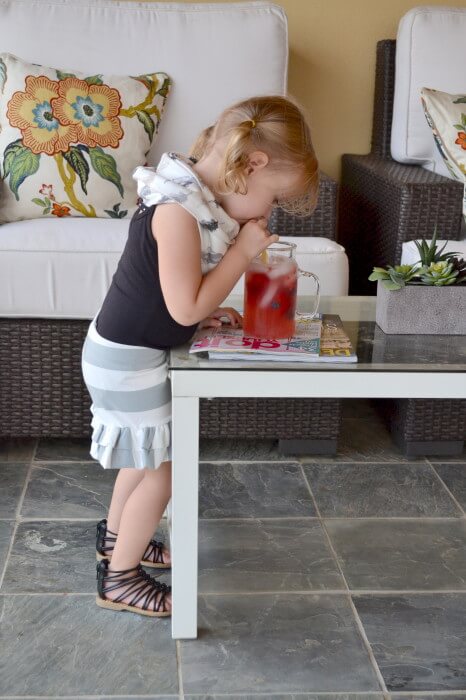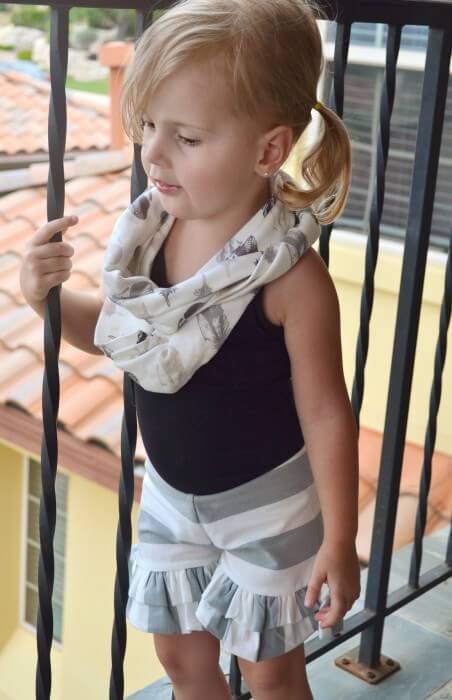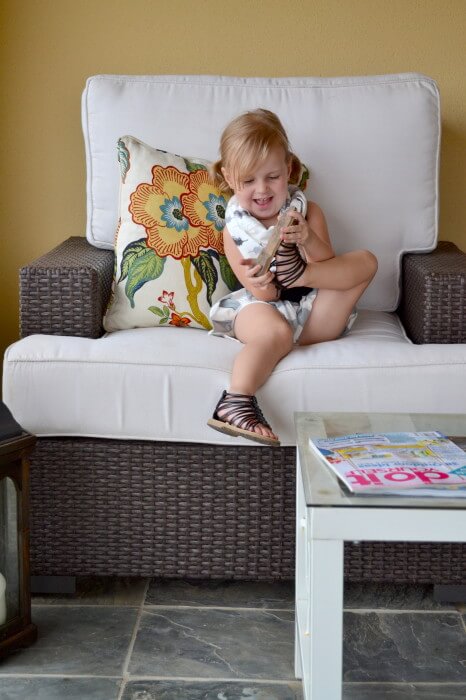 You always know as a mom that trouble is on it's way when the shoes come off…
Jumping on the furniture…like I said, trouble.

These are the perfect "girly girl" shorts, and are especially great for girls on the move. Nothing's worse than when Camryn's trying to play with the boys and her panties show. Boys can't help themselves; they'll always shout "I can see her underwear!" for everyone to hear.
The material is a soft, thick, cotton, and the gray and white combo pairs well with tons of tops.
You can view the entire Taylor Joelle "Sea Me Twirl" collection here. The entire Sea Me Twirl collection is 30% off for one week, as well as other Taylor Joelle favorites. This sweet little mint skirt might just be my favorite.
If you haven't already entered to win a pair of moccs, go now!
XO – Samantha