Hello Lovelies!
Remember a few months ago when I mentioned that my husband & I love travelling? It's our thing. We invest all of our spare time and money into seeing the world, and taking Camryn on new adventures. We visited Paris & the french riviera last fall, and we're planning a trip this spring/summer to Italy & Greece. Every purchase I make takes away from our budget for this coming trip, so I'm constantly aware when I'm out shopping.
If I just happened to have some extra money fall in my lap, there are a few things I'd have my eye on for our trip, and spring/summer in general.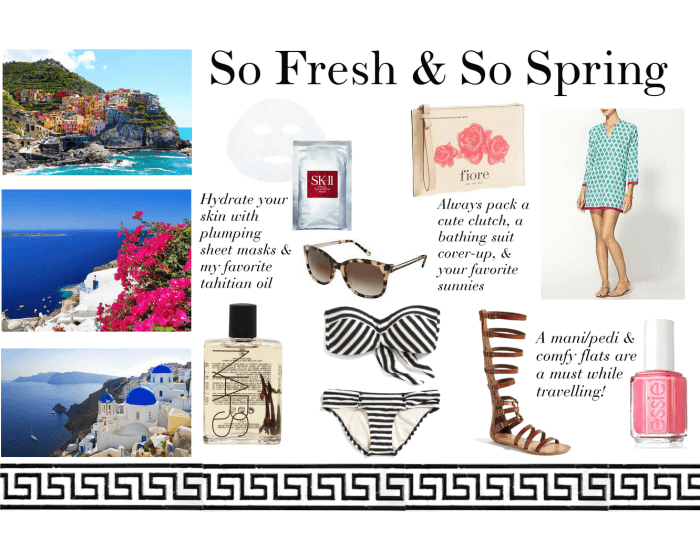 Sheet Masks || Nars Monoi de Tahiti Body Glow Oil || Sunglasses || Bikini Top, Bottoms || Clutch || Gladiators || Tunic || Nail Polish – Essie "Nice Package"
What would you buy if you had some extra cash lying around? Wouldn't it be amazing if you could actually buy those things, without breaking the bank, with extra money that you WON?!
Today's your lucky day. I'm so excited to be teaming up with some fabulous friends of mine to bring you a "so fresh & so spring" giveaway today! Meet the ladies making this all possible, and go check out what they would buy if they won the cash prize:
Bethann of BethAnimalPrint
Katie of Pearls + Girls
Kaysha of That Comfort Girl
Rene of My Simple Kitchen
Biana of BLovedBoston
Are you ready for all the AMAZING prizes?!
ONE of you will win $150 cash, a March Popsugar Box (check out this post for all this details of the contents), a dozen flower cookies from PPGBakery, and $50 credit to TennesseeMeVNTG on Etsy. Many of these goodies would make great mothers day gifts as well.

Enter to win below. All entries will be verified.
XO – Samantha