My sweet friends over at Crest sent me some happy mail a few weeks ago, and asked me to give my honest feedback on their new 3D White Luxe Professional Effects Whitestrips. I've used similar products in the past, as well as professional whitening trays from my dentist, the Glo whitening kit, and in-office Zoom. I was eager to compare the results, especially against the higher priced brands.
The box contains 40 strips; 20 treatments (top & bottom). Directions recommend wearing the strips for 30 minutes a day until you reach your desired whiteness. I have very sensitive teeth, so I chose to whiten every other day instead.
I started by flossing and then brushing my teeth using the 3D white toothpaste & accelerator, which I already owned. I dried my teeth with a paper towel, and applied the lower strip first. I suggest using a toothpick or your nails to press the whitestrip in between the crevices of your teeth so you don't have white surfaces but yellow gaps in between. Apply the top strip the same way, and be sure to fold the remaining strip over the backs of your teeth. If you have sensitive teeth like me, avoid getting any of the whitestrip or gel on your gums because it's typically the nerves in your gums that get irritated and cause that piercing feeling in your teeth.
My husband and I split the box and did 10 treatments each. I wanted a second opinion because I do have sensitive teeth and he doesn't at all.
After about two weeks my teeth were practically glowing.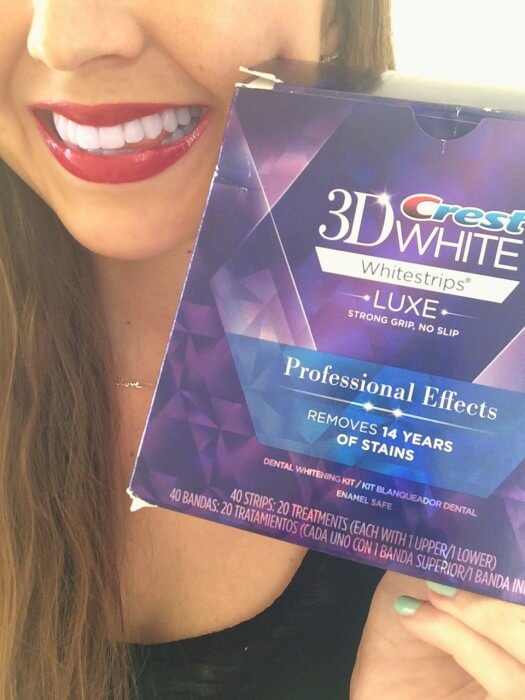 Sorry for the crappy iphone pic, and cheeseball smile. I was wearing Lady Danger by MAC, with a Rimmel Stay Glossy over the top, which did make my teeth look even whiter. I was extremely impressed by these strips, to say the least.
My final thoughts…
Affordable (roughly $39.99 per box)
Effective – Half a box whitened my teeth to my desired color.
Ease of Use – VERY easy to use. You only wear them for 30 min and they do not budge. I was actually worried the first time I tried taking them off because they literally stick like glue. I could have a full convo with my husband while wearing them, no problem.
Little sensitivity for me, none for my husband.
In comparison to the other whitening treatments I've had/used, I would go back to these above all the rest. Zoom is very expensive, and requires a significant amount of time at the dental office, in addition to wearing take home trays for weeks after. Zoom also caused a horrifying pain in my teeth; I would avoid Zoom for that reason alone. Glo is as effective (or more effective), but inconvenient. The tray has to be taken out every 8 minutes, rinse your teeth and re-apply new whitening gel (repeat 4 times…yes, FOUR!) The mouthpiece also hurts my jaw, and it's significantly more expensive. Similar whitestrips lack in sticking power, and end up sliding around my mouth, and foaming…which is gross, and makes me dread wearing them.
So there you have it. I'm a Crest 3D whitestrips kinda gal…except right now…Doc says no whitening because baby doesn't like to eat bleach for breakfast.

What whitening products do you use? Have you tried the new Crest strips?
Hope you all have a great hump day!
XO – Samantha
*This product was gifted to me to review. My opinions, as always, are my own. If the product was crap, I'd tell you.*