Welcome back!
First off, THANK YOU all for the incredibly kind comments, messages, texts, and calls about our pregnancy news. My heart nearly exploded. I'm so happy to have such a supportive, kind, and kickass group of followers. I say it all the time, but you've made my little corner of the internet such a joyful place for me. I'm looking forward to sharing my pregnancy journey with all of you. Right now, I'm bloated, tired, and craving caffeine. I could be used as a floatation device, and my husband and I are becoming more and more afraid of what two children will be like. HA! Get ready for more posts that sounds like that. If you're a parent on 2+, please leave me regular comments reminding me that I'm not going to be outnumbered, and that two tiny terrorists are not going to deprive me of sleep and ask the words "why?" forever. Those are short term problems, right?
How was your weekend? Mine was pretty good. My husband came home after an entire week away and I was beyond exhausted and thrilled to have him watch Camryn while I napped.

It was my sisters birthday on Saturday and we spent some time lounging by her pool and enjoying the "Camryn Show", aka my toddler running around in her bikini being oh-so-silly. Pictures of that are on my Instagram. Pre-warning: 2 year old in a bikini might be more cuteness than you can handle. You've been warned. On sunday I went to get a last minute mani/pedi with my sister and none of our usual places were open, so we tried a new place called Crystal's (off N. Lamar if you're in Austin). DO NOT GO THERE!! It was the worst mani/pedi I have EVER had.

My nail polish, 8 hours later, is still mushy and peeling off my nails. How is that even possible? I swear they added acetone to the polish too many times or something. I've never had to remove my polish and re-paint both hands and feet the same day as having them professionally done. Such a bummer.
In other news, I've finished my DIY drapes, and they look fabulous if you ask me.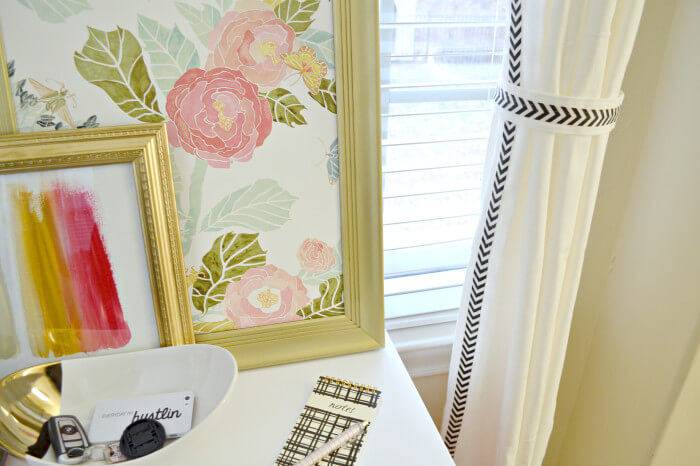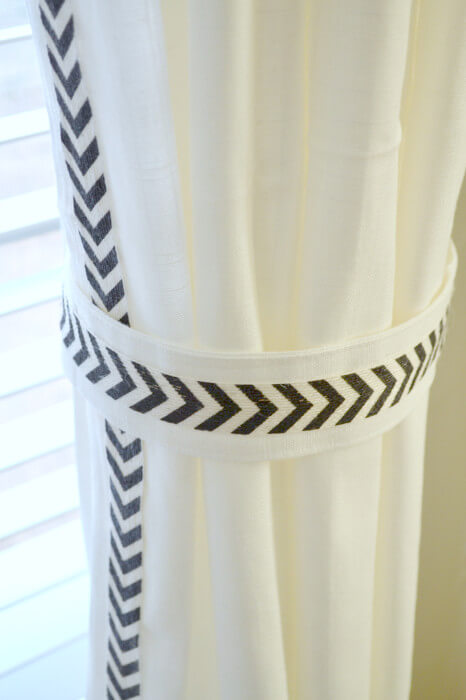 Pretty great for a $35 PAIR of 118″ curtains from Ikea, $3 worth of ribbon, and $4 worth of fabric glue. If you want to recreate this look, lay out your drapes and glue your ribbon down 1″ from the edge. All it to dry overnight, and Viola! I used large coffee table books to hold my fabric flat and wrinkle free. Even my husband was impressed with this cheap DIY and what an impact it made. The drapes looks beautiful and expensive and at 118″, they add so much height to our hallway.
If you noticed my fun "Everyday I'm Hustlin'" phone cover, it's from Mulberry Press Co. I get stopped in the street and asked by strangers about that awesome case.
In addition to finishing my curtains, I also found a drawer pull for my hallway console. Of course it's from Anthropologie…that place is like crack. The word "no" is non-existent in there.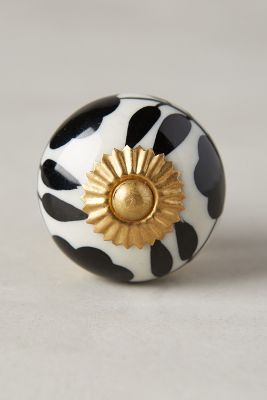 This knob looks so much better in person. It's absolutely drawer pull perfection. Once I install it I'll post a picture for you all.
Until then, have a happy Monday.
XO – Samantha