You all know I'm a home decor-aholic. My husband cringes with every new season, knowing I'll be walking through the door with new pillows, lamps, rugs, etc to reflect the changes outdoors. In the winter you can bet I'll be snuggling under a fur throw, burning a musky candle, and and enjoying warm toned pillows and accessories. But spring is my favorite season of all, and I look forward to sprucing up my space for spring weather all year!
Here are a few of my favorite items to "spring up your space".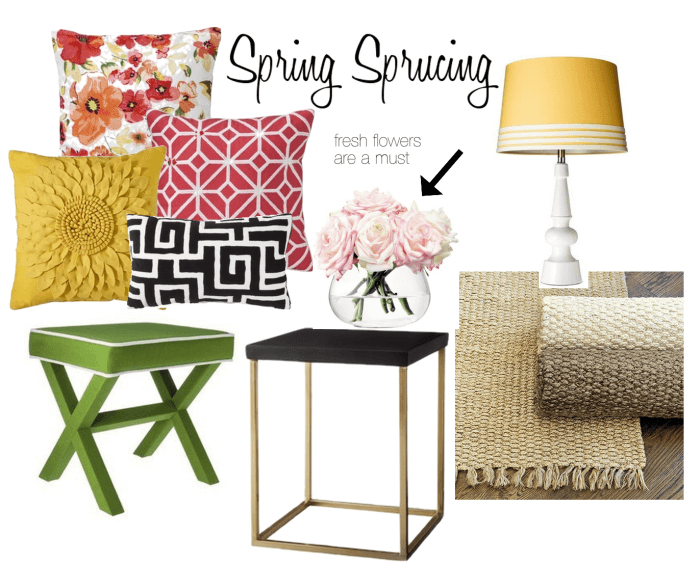 A jute rug is the perfect spring/summer addition to any decor. It's natural, durable, and the muted coloring pairs well with almost anything. The beachy, summer-home feel that a jute rug gives off is perfect for this time of year (and year round). I just purchased a jute rug for my living room and I'm absolutely loving it! The above rug is from Ballard Designs and is 20% today.
Floral pillows, as well as bright corals and summer colored pillows, are an easy and cheap way to freshen up a space. Layer different textures, colors, patterns, and sizes to create a well-styled sofa. I read somewhere that every room should have something black & white, as an anchor, so pop a small accent pillow in the mix. You can purchase the floral pillow, coral geometric pillow, yellow bloom pillow, and black and white pillow at Target.
Target has also brought back their upholstered x-benches in grass and coral, and I am beyond thrilled! These babies are perfect for tucking under a console table, in front of a fireplace, flanking a living room table, and more. The colors pair perfectly with florals, and scream spring. Run, don't walk, to get your hands on these!
Last but not least, fresh flowers. No need to spend a lot on expensive roses, just grab a $4 bunch of carnations or whatever your local grocery store sells, and pop them in a fun vase. Get creative! I used my Alice + Olivia mug as a vase recently and it looked so chic. You can also light a fruity or floral candle (I'm currently burning this one from Bath & Body, and it smells amazing) and your home will scream spring within minutes.
XO – Samantha