1.|| This delicious pumpkin spice protein smoothie from LuluLemon. Healthy and yummy? Yes, please!
2.|| Have you heard about Martha Stewart's opinion on bloggers? Leave me a comment below telling me what you think about her viewpoint. You might be surprised to know mine…
3.|| Crockpot applesauce – Camryn helped me make this on Monday, and we've been eating it all week. It's so easy, and tastes like heaven! Peel & core 10-15 apples (basically fill your crockpot with apples), sprinkle cinnamon & sugar over apples to taste (I used about a tablespoon of cinnamon, and 1/4 cup of sugar). Cook on high 4-5 hours.
4.|| Pantone named the spring 2014 colors, and the color of the year – Dazzling Blue! I'll be guest blogging next Wednesday over at "Can Ya Heel Me Now?" and talking about how those colors translate into shoes and your wardrobe.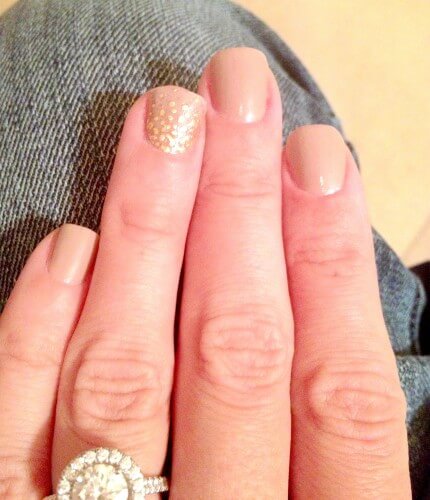 5.|| Loreal's Color Riche Nail Lingerie. My ring finger has the "Elite Chic" sticker over Revlon's Gray Suede (which might be my all time favorite polish). It's beautiful in person!! I've been wearing it for 2 days, and no chips, or peeling of the sticker. I'd like to try a few brands of these 3D nail art stickers to review for y'all soon.
6.|| I had the in-office Glo Whitening procedure done on Tuesday, and also purchased the take-home system for continued whitening, and touch-ups. I have incredibly sensitive teeth, and was nervous that I would feel that terrible tooth pain associated with whitening, but I had very little post-whitening discomfort. The system comes packaged beautifully and reminds me of Apple packaging. I plan on doing a full review of this product, with before/after photos, next week after I've used it more. I'll include links on where to buy, and how to save money while making this "splurge purchase" as well.
7.|| Sign up to be an Ulta Member, and receive 20% off your entire order until 11/2
8.|| Clever Halloween costumes – As a mom, and a lover of Harry Potter, #3 was the obvious winner for me!
9.|| After our rainy weekend, where I nearly lost my mind from being a caged animal, I started looking for activities to help Camryn and I survive this coming winter. This list will be a huge help!
10.|| This weekend I am taking the Tobias chair from ikea, and giving it my best "Ikea Hack", and hoping it turns out similar to this. Mama needs a new office chair. I'll share pictures next week.
Hope you all have a wonderful weekend!
XO – Samantha