I've had lots of requests to share my morning & evening skincare routines with all of you, especially after listing a few of the products that I use regularly. Many of you were surprised by the number of products I listed, and asked to know in what order I used them all. To clear up any misconceptions, I have an arsenal of products that I use, but not everyday. I interchange my skincare products depending on what my skin needs (for example: moisture, blemishes dullness, puffy eyes, exfoliation, etc). I am sharing the products that make it into my morning routine most frequently. If you still have any questions, just leave me a comment below!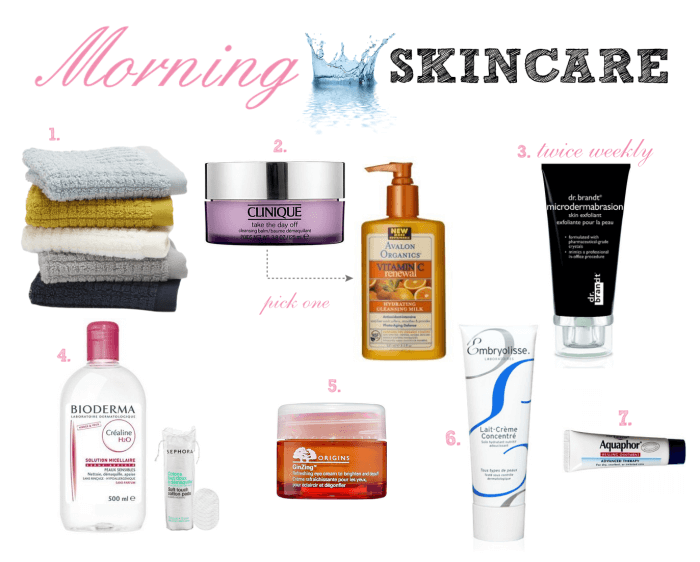 1.|| I start my morning routine by wetting a washcloth under hot water, and then placing it (wrung out) over my face. This helps wake me up, increases bloodflow to my skin, and "opens my pores". I use that term lightly because your pores are not doors that open and close, despite what every pore refining skin treatment on the market wants you to believe. The heat from the washcloth does help unclog and loosen any dirt/bacteria that is clogging my pores, which makes cleansing my face more effective. The pores on your face will appear larger if they are clogged, so if you can visibly see blackheads, clear the little bastards out!
2.| After I've steamed my face, I begin washing using either my Clinique Take the Day Off, or my Avalon Organics Vitamin C cleansing milk. I prefer balms and cleansing milks because they are hydrating, and don't strip my skin of moisture. I also use my Clinique cleansing balm every evening to remove my makeup (even eyes) and as my first cleanse (I double cleanse in the evenings…more on that soon.) I'll use the Avalon Organics cleanser when my skin is looking dull, or when I'm having any acne issues. The vitamin C helps brighten my complexion and fights acne.
3.||Twice a week I follow-up my cleansing with the Dr. Brandt Microdermabrasion Paste to exfoliate any dead skin away, which keeps my face smooth and clear of any rough patches. I prefer to exfoliate in the AM because it allows my makeup to apply more smoothly, and prevents my foundation from clinging to any dry patches of skin.
4.|| I often use a cotton pad and my Bioderma Micellar Water to remove any remaining mascara smudges, and as a final cleanse before applying moisturizer. My Bioderma also comes in handy when drawing a cat-eye with liquid liner, and I need to clean up any mistakes and sharpen the line. I use a cotton pad soaked in Bioderma, a clean makeup brush (flat brush), and simply wipe the brush on the pad and then wipe away any eyeliner that you don't want. You could also use a q-tip, but I find a small makeup brush is more precise.
5.|| I use Origins GinZing eye cream, and I love it! This cream is slightly peachy and reflects light which helps brighten and covers my dark circles. This is the eye cream for tired moms.

6.|| I have combination skin, but during the winter months I tend to be more dry than oily. I use the Embryolisse Lait-Creme Concentre to hydrate and plump my skin. I purchased this in Paris after hearing review after review from beauty bloggers that I follow. They were right, this stuff is amazing, and so well priced. It's rich and creamy, and leaves my skin feeling hydrated all day. I wouldn't recommend this product to anyone with very oily skin. When my skin is looking grey and dull I'll add Cosmedix Pure C to my moisturizer to brighten and even out skin tone.
7.|| I use Aquaphor on everything. My hands, cuticles, feet, and even my daughters bum when she would get diaper rashes. It's one of the products that I couldn't live without. I apply this to my lips every single day; after I brush my teeth in the morning, and before I go to bed at night.

Many of these products were featured in my 2013 Favorites of the Year, if you want to read more about them.
I'll post my evening skincare routine for you all soon.
XO – Samantha