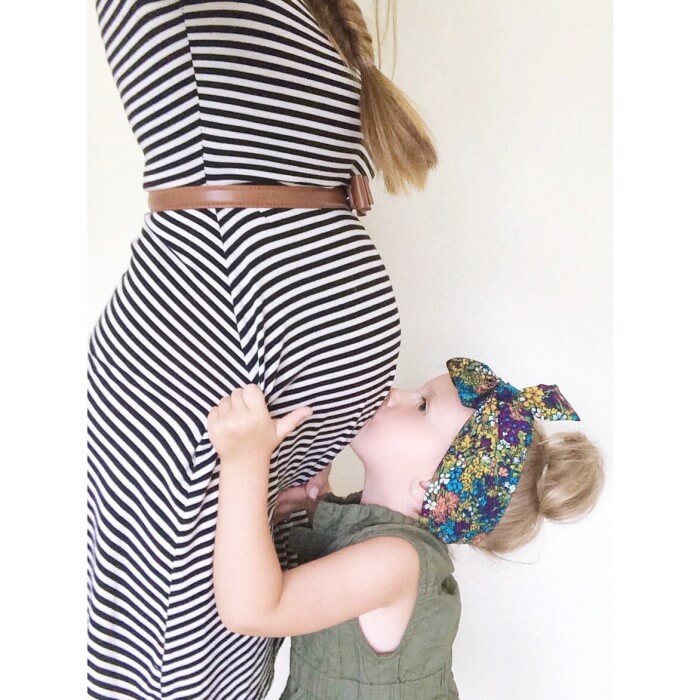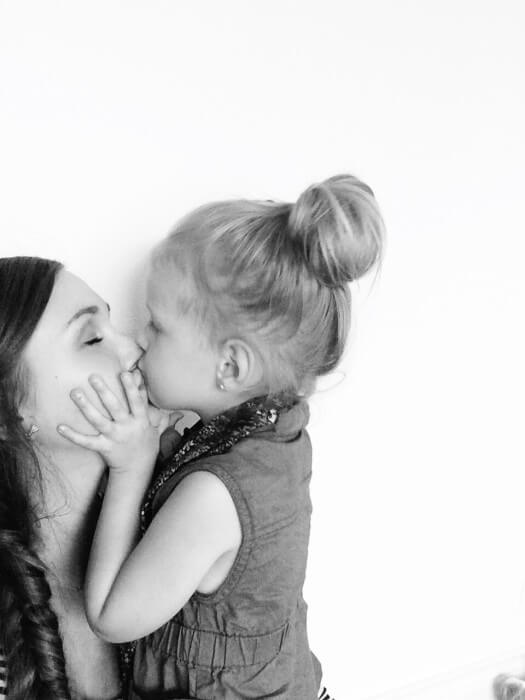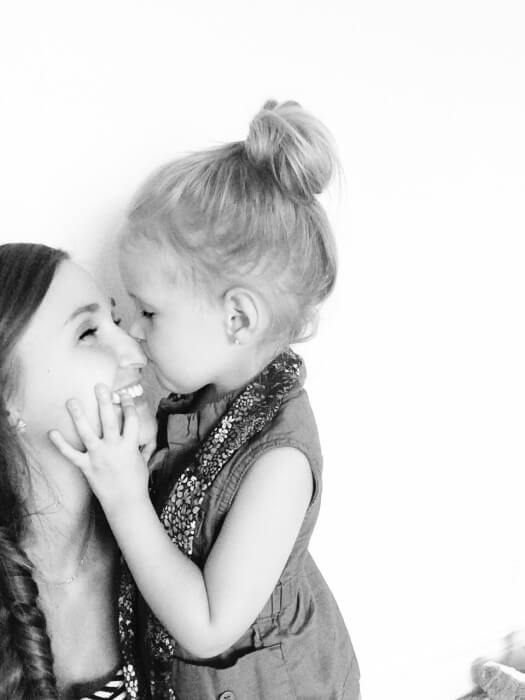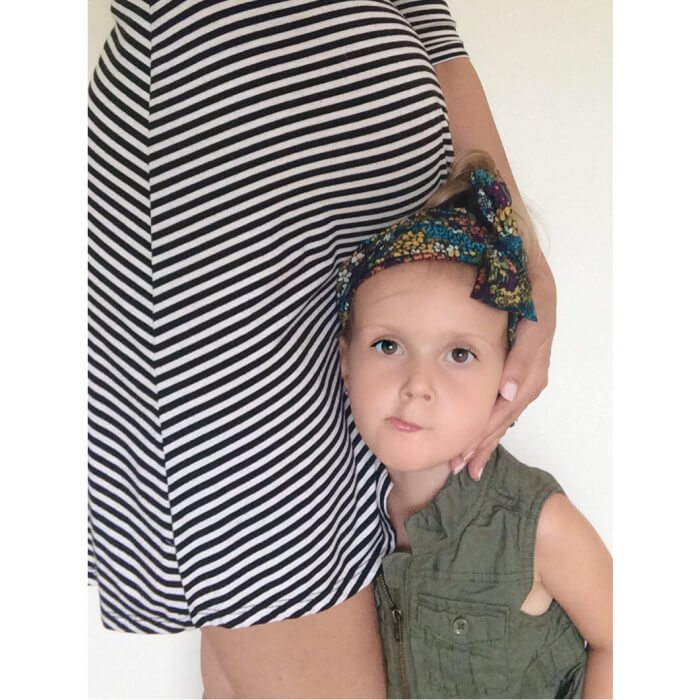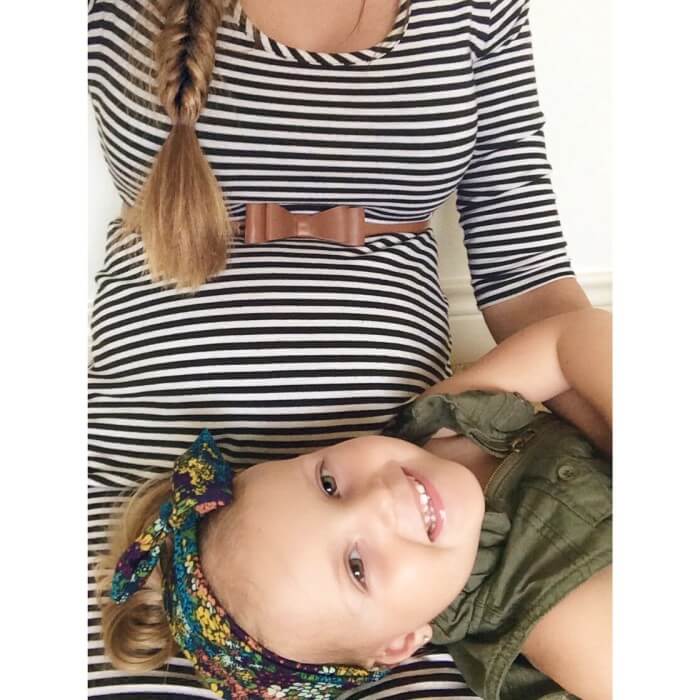 It's hard to believe I'm already in my 25th week of pregnancy, and just 15 weeks (or less) away from meeting this tiny lady! This has felt equally like the longest pregnancy, and the fastest pregnancy ever. When I think of all the things still lingering on my to-do list, I become overwhelmed with anxiety. When I think of all the hours spent nauseous and hanging over my toilets, sinks, and drowning myself in ginger ale, I wonder "how have I survived this infinite pregnancy?"
If you're wondering what I've done to prepare, the answer is nothing. I haven't bought diapers. I haven't assembled (or purchased) the crib. The dresser/changing table still lives in Camryn's room. The storage containers full of baby clothes that I've saved for the last 3 years are stacked to the ceiling and in need of being washed and hung. Thank god I am OCD and was smart enough to organize them all by size and season – hallelujah! We don't have a double stroller (and probably won't get one because it seems unnecessary for us), a swing, bouncer, activity mat, or even a monitor…although my husband did splurge on the Sproutling. If you're unfamiliar with this awesome product, check out their video.
To be quite honest, I'm not concerned like I was when I was pregnant with Camryn. I feel like all I need is diapers, nursing pads for my soon-to-be leaky chest, a crib, and a car seat….maybe a few sleeping pills to slip that little night owl….BOOM! Happy baby. I'm kidding people. Don't drug your kids. Put down your phone, no need to call child protective services.

Speaking of calling CPS, did y'all see that crazy mom who video taped her son lighting himself on fire?! W-T-F. Don't even get me started. Ok, moving on before I get all Oprah on you and start telling you how I feel about said crazy mom…
Since I seem to be rambling, lets go ahead and break things down real quick with ten facts about my pregnancy as of now:
1. I can't stop eating. I crave pasta, cereal, cheeseburgers, and popsicles. By crave I really just mean I like those foods and am using this baby as an excuse to indulge.
2. I tried to put on a pair of non-maternity shorts to wear unbuttoned over my bikini to the pool this weekend, and couldn't even pull them up past my thighs. I am convinced I am growing Harper's twin in my a$$.
3. I've only made 4 maternity purchases so far, which is probably why I'm constantly complaining that I have nothing to wear. 1 pair of pants, two shorts, and a tee shirt. On the other hand, I've bought Camryn 20+ new outfits in the last 6 months despite the fact that she hasn't grown an inch since I got pregnant. Story. Of. My. Life.
4. I started feeling Harper move around 14 weeks. Taylor first felt her move around 17 weeks, and Camryn felt her around 20. I can now see her moving, and we watch my belly roll around nightly. Harper responds quickly to Camryn talking to her, and loves to kick big sister in the face when Camryn leans her head on my belly.
5. The love and bond my girls already share has made being sick for 6 months 100% worth it. Camryn touches my belly, says "Hi Harper!", and kisses her at least once a day.
6. I haven't had any stretch marks yet (I never did with Camryn), but I have gained a solid 16 pounds already. I gained a total of 30-35 with Camryn.
7. I am a walking furnace. Most days I just want to live in the freezer. Summer pregnancy in Texas is not my jam.
8. I havent had a single stranger touch my belly.
9. Harper does not yet have a middle name. We have about 4 names that we're tossing around, but my husband is "meh" on all of them. Suggestions?
10. At 25 weeks, I still sleep on my belly. It's only just (in the last week) becoming uncomfortable, and I'm trying to transition to sleeping on my side…I haven't slept well in days.

Hope I haven't bored you too much with all this bump talk. I have a beauty review coming your way tomorrow, so if baby talk doesn't apply to you, hopefully that will.
XO – Samantha