Well, hello friends! A whole 10 days passed, and really all I've managed to do in that time is eat, sleep, and snuggle my nephew. It. Was. Heaven.
Gahhhh, he's just the cutest little man, isn't he? If I wasn't already knocked up, I'd be in trouble, because he gave me baby fever like you wouldn't believe! I'm literally obsessed with him, and it was so heartbreaking leaving Colorado and not knowing when I'll see him again.
While I was on vacation I stopped in Baby Gap and scored the best little lemons bathing suit for miss Harper, and it was on sale for $5.99. I kid you not. Run, do not walk, to your nearest Baby Gap. Or better yet, buy one online and save an additional 30% with code EXTRA.
Speaking of cute lemon apparel, did you sneak a peek at my big (little) lady rocking her "Lemons Make Lemonade" tee from Kate And James? You can snag one of those darling (and super soft) tees for your own little, on sale for $20 now. They also sell onesies, and other awesome tees, and I've been spotting them all over IG on some fashionable kiddos like @sarahholstrom's Tallulah & Phinn.
And if you're having a "lemon moment" like I am lately, you're going to need to get this Little Big Dreamers lemon headband too. If you weren't lusting over lemon prints before today, are you now?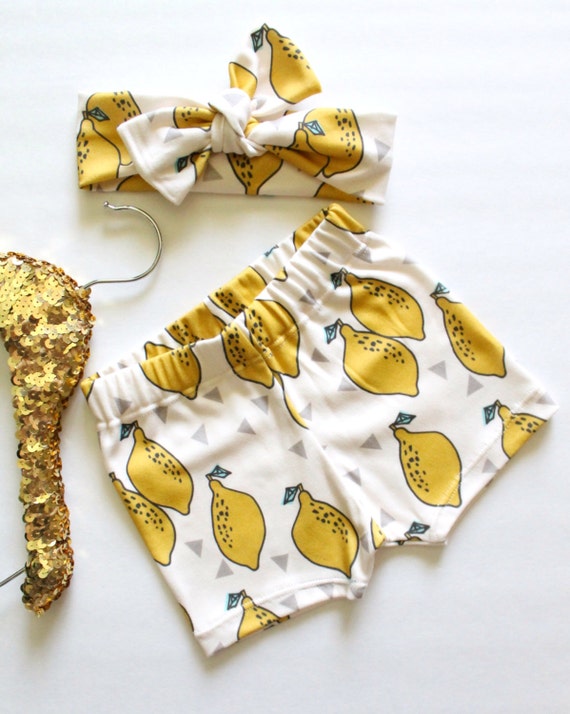 Camryn & I will be giving some DIY art for Harper's nursery a whirl today, so wish us luck! Hopefully I'll have something successful to share with you tomorrow.
Happy Monday, and thanks for sticking around with me…I know I've been hit and miss lately, but I'm working on it.
XO – Samantha