The nice people at Influenster sent me some complimentary goodies this week to test out and I thought I'd share my thoughts with all of you. You're probably wondering what Influenster is, and why they're sending me free stuff…Influenster creates a bridge between companies and bloggers (or youtubers, etc). If you're a blogger, vlogger, or just have a large social network, then Influenster might be of interest to you.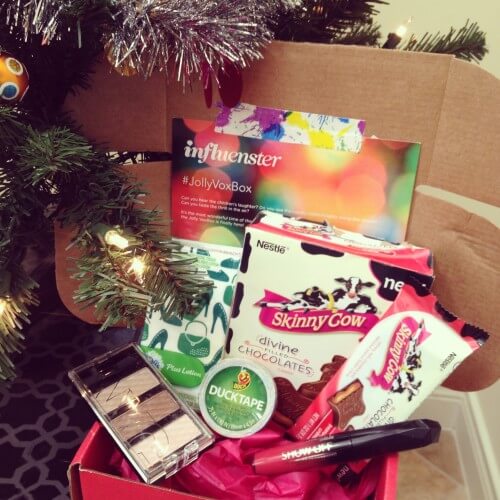 This is my "Jolly Vox Box", as they call it, which contained:
Rimmel London Show Off Lip Lacquer
Ducklings Mini (duck tape) Rolls
What an awesome surprise this was! All of the products are full-sized, which is great because sometimes it's hard to really test a product off a sample. Things like skincare especially need full-size or generous sized samples.
I busted open the skinny cow chocolates first, of course, and they are so yummy! They have peanut butter filling and taste a lot like a reese's peanut butter cup. These are the perfect late night snack when your sugar cravings kick in.
I've been wearing the NYC eyeshadows the last few days and I'm really impressed. I knew I would like the NYC eyeshadows because I've tried other palettes of theirs before. I am really loving the neutral colors in this palette, called Long Beach Sands, because they are slightly shimmery, and easy to wear day-to-day. They are a little bit chalky in comparison to a higher end palette like Naked's, but have good color payoff and are a bargain.
I've also been wearing the Rimmel Lip Lacquer, and no surprise, I love this product. Rimmel is easily my favorite drug store brand, and I frequently order products online from them that aren't available here in the US. The "Wake-me-up" foundation and concealer are two of my favorite products from them. I was actually lucky enough to try this lip lacquer prior to them sending it to me because I snagged one on my trip to Paris. You guys know I watch beauty videos on Youtube, and I had heard all my favorite girls raving about this product, so I had to get my hands on it ASAP. I had purchased "Big Bang" which is a gorgeous red, and I was just sent "Aurora" which is a beautiful pinky mauve. These lip lacquers aren't sticky, they stay glossy for a really long time, and leave behind a beautiful stain so you don't have to reapply constantly. I would compare them to the YSL glossy stains.
The Puff tissues are a no-brainer. I buy them constantly to keep in my purse, and they always come in handy, especially with a 2 year old. If you've never used a Puffs tissue, you've been living on another planet.
The Mini Duckling tape is so fun, and Camryn and I have been using it to craft this week. I got a paint splatter effect that is bright and colorful. These would be great alternatives to washi-tape for crafting, and I'll be using mine to tape gift cards into Christmas cards this year. Speaking of Christmas….is it seriously less than a week away?! AHHHHH!! I'm in full-on panic mode now, and shopping and wrapping gifts like a mad woman.
Have you guys tried any of these products? Bloggers, are you Influenster members? What fun goodies have you received and enjoyed?
Have you entered all this weeks giveaways? Click on the "Giveaways" to the right of your screen to view all posts containing giveaways.
Come visit me over on My Simple Kitchen. I'm reviewing the food delivery company "Plated", and cooking white bean chicken chili.
XO – Samantha