You all know my love for handmade shops, and today I'm bringing you another great one to check out. Meet Minimoc, an ethically sourced, handmade moc company out of Vancouver. I met Amanda after seeing her mocs featured on a fellow bloggers Instagram account, and first fell in love with the color range she offered. I looked into minimoc and was so impressed with her story, and the obvious care she put into her mocs, and knew I had to try them out myself.
I chose the Robin's Egg suede mocs in size 1 (they are teeny tiny and ADORABLE) for Harper's first pair of mocs. I knew when the box arrived that they were going to be amazing because the packaging was so nice, and I was oh-so-right. They are velvety soft, a beautiful sea blue color, and incredibly high quality.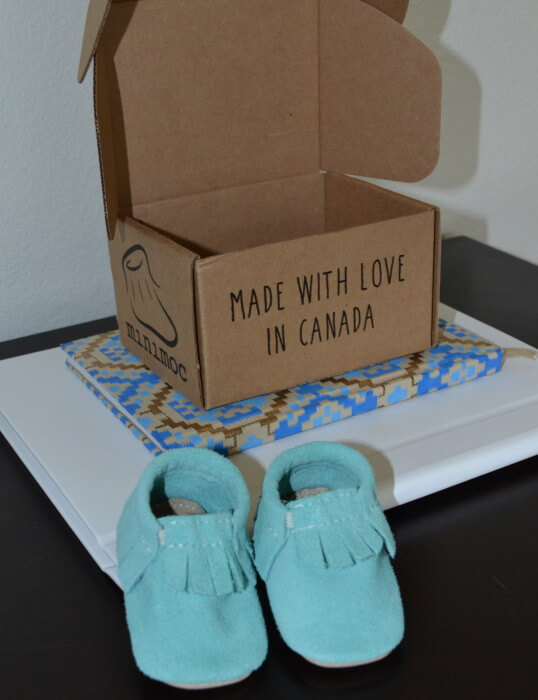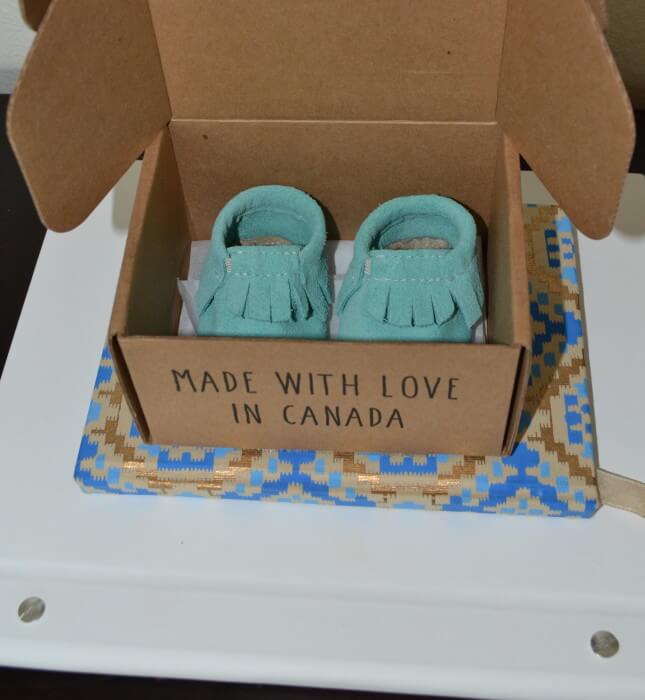 All of the Minimoc moccasins feature a micro-suede sole for non-slip indoor and dry weather outdoor footwear. The sole is spongy, and soft, and is great for early walkers learning balance.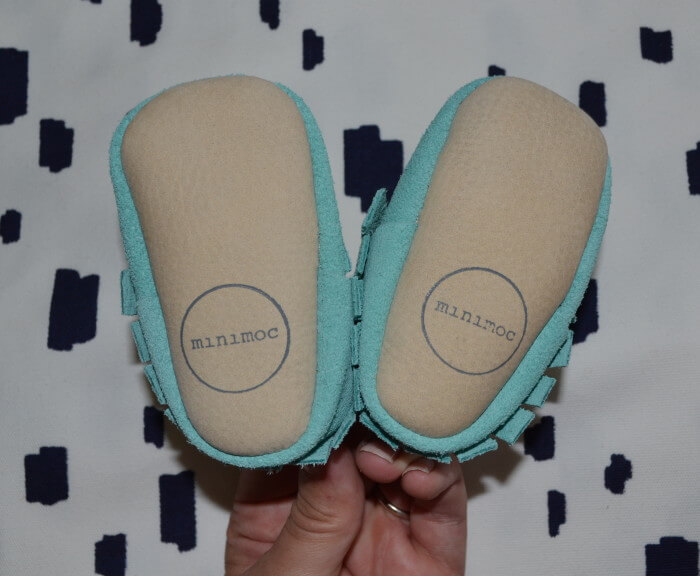 Every moccasin has an elastic opening which makes putting them on/off easy for young toddlers who must do everything themselves. (I know all about that!) The elastic opening also prevents the mocs from slipping off even the squirmiest of feet.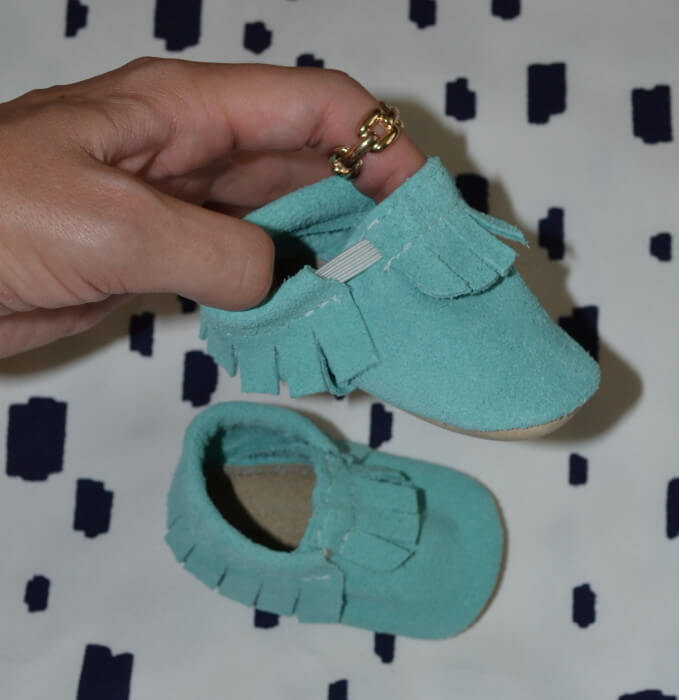 Aren't they darling? Harper will be coming home from the hospital in these beauties.

Here's some fun outfit inspiration featuring Minimoc's…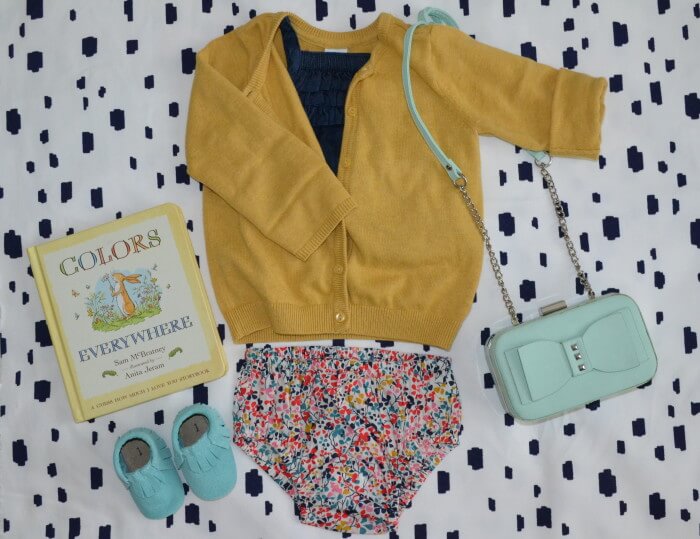 Sweater: H&M // Bloomers: J Crew // Purse: Target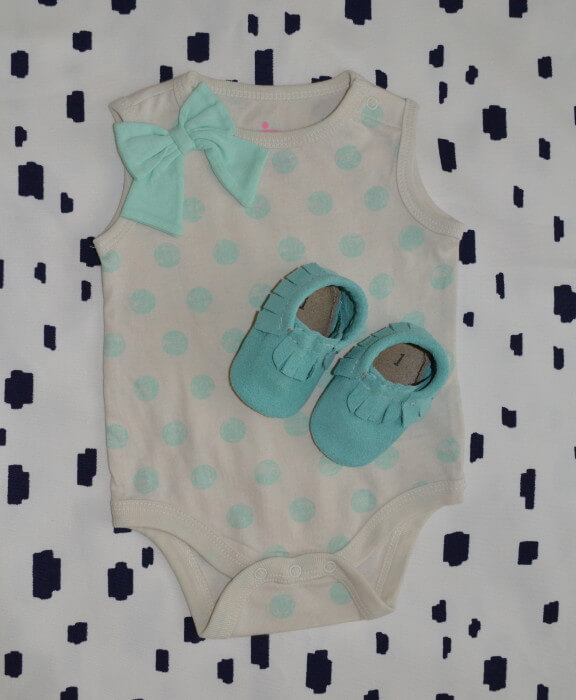 Onesie: Target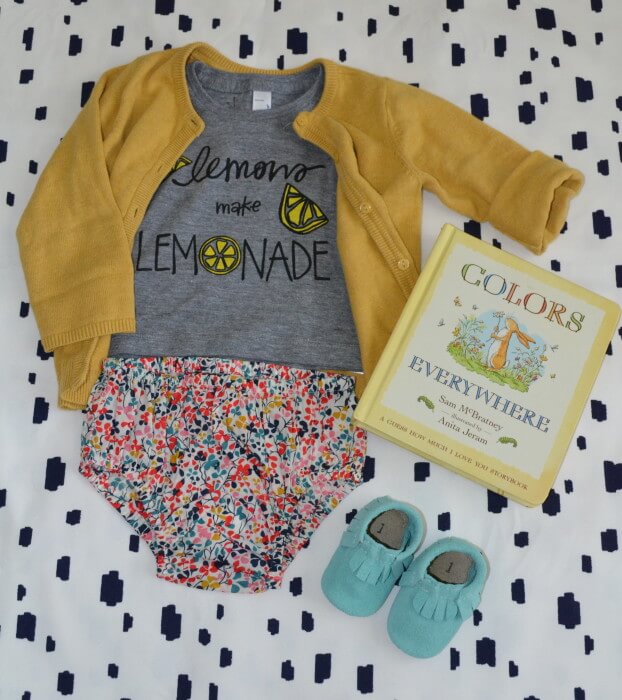 Sweater: H&M // Lemons Shirt: Kate & James Shop // Bloomers: J Crew // Spotted Fabric: Caitlin Wilson Textiles
Amanda currently offers 22 colors of moccasins (I've got my eye on 'Piglet'), as well as leather bows, bowties, and apparel. Her moccasins are competitively priced, and you can buy with the confidence that she is sourcing from reputable tanneries with fairly treated employees.
XO – Samantha