I was taking my usual stroll through Target last Thursday when I came across something so good I literally squealed with joy! Remember when I mentioned my desire for X-Benches in this post? Well I must be on someones "nice list" because I scored a set for only $120!!!
These are much more of a deep wine red in person, but I honestly didn't care if they were puke green, since I'll be re-upholstering them. I plan to paint the legs a beautiful lacquered black, and I'm considering this fabric for the cushion…but I do have a 2 year old, so am I crazy?!
What do you think? Too much going on with the Chiang Mai pillows, and this? Should I stick to a solid color, and do something velvety, or with texture instead? Should I be a true mom, and go with an outdoor fabric that Camryn can't destroy? Decisions, decisions….If you have any other fabric recommendations, PLEASE let me know!
These benches also come in burlap, but my Target only had 1 available, and a brighter red is sold online only.
Don't just walk, RUN, and go snag a pair for yourself!!! I'm envisioning mine to eventually look like this:
Jennifer from TheChicPad.com (If you don't follow her, GO GO GO! She's ahhhmazing!) tweeted me about some STEALS over at Homegoods. Are these not beautiful also?
$70 people….did I just hear you squeal from excitement?!

I couldn't resist myself while at Tar-jay, and picked up a few other things…
A new tray for my desk.
And this gold snakeskin embossed tray was a STEAL – 60% off. It's found a new home on my living room table. I have a tray addiction.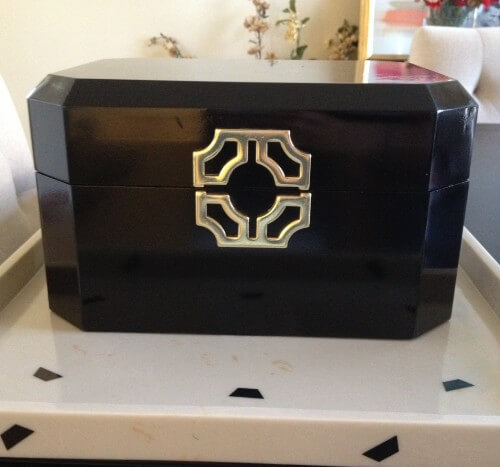 And how pretty is this jewelry box?! I couldn't find it on the Target website…maybe it's that new?
Target never fails me.
XO – Samantha