Today is the last day in my crazy week of guest bloggers, and I've saved the very best for last. I have Rene, one of my very best friends, guest posting from her blog My Simple Kitchen. She has always been an incredible cook, and I remember when we worked together she would always bring yummy lunches, and I'd be drooling, or she'd tell me about the meal her and her husband cooked on their grill the night before…and I'd be drooling, again! I remember getting to go visit her in Oregon (where she currently lives) and I went by her parents house and saw their beautiful kitchen, and they had a pot rack hanging with the nicest pots and pans I'd ever seen. I'm talking about EXPENSIVE, high quality pots and pans, not at all like the ones I have. They ENJOY cooking, and have passed that awesome quality down to her.
Here's a VERY old photo of us. I adore her. <3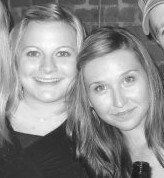 Hi all! I'm Rene, a brand new blogger over at My Simple Kitchen. I am so excited to be a guest at Playdates and Pearls today! My goal when I started My Simple Kitchen was to share recipes that are easy to prepare and taste great! I grew up with some awesome cooking from my mom. She always made healthy and creative dinners. But only in the last couple years have I really started to enjoy cooking and was able to appreciate all those homemade meals as a child. With our busy lives of work, family, activities, etc. sometimes it's hard coming up with meal ideas that are quick, tasty, and don't break the bank.
This meatball pasta is super easy, takes under 30 minutes, tastes great, AND costs under $15.00!
What you'll need:
Sausage (you can use ANY kind you like. I like to use chicken sausage, makes me feel like it's healthier :P)
2 tbsp. olive oil
1 ½ tsp. minced garlic
1 small onion, diced
1 jar marinara sauce (or you can be fancy and make your own)
2 tsp. oregano
1 tsp. thyme
Parmesan cheese
What you'll do:
Roll sausage into meatballs. Or, if you're using links like I do, pinch desired size meatballs out of casing.
Heat olive oil in skillet on medium heat.
Sautee onions and garlic until tender.
Add meatballs and cook until done. 5-7 min each side, depending on size.
Add 1 jar marinara sauce, oregano and thyme (If your sausage is already spiced, omit the oregano and thyme.)
Cover and simmer on low for 20 minutes.
Serve over noodles and top with parmesan cheese.
If you're staying away from carbs or just want a lighter version, use zoodles instead.
Pardon the glove. I'm not a big fan of handling raw meat. Ewwww

Total cost for this meal for 4 = $14.39!
Thanks for reading and come see what Samantha whipped up in her kitchen!
~
If the picture of Rene, wearing her purple gloves, squeezing that "sausage" doesn't make you cry from laughter then you need to scroll back up and look again. When she e-mailed me, I nearly lost it. She told me she took a TON of photos trying to not make it look so "nasty". HA!
Rene and I are teaming up to bring you a very exciting GIVEAWAY! You can enter to win "The Can't Cook Book" and a beautiful Anthropology Apron below.
Scroll to see photos of both prizes.
Go say hi to me over on My Simple Kitchen. I'm cooking pizza, drinking wine, and pretending I know how to cook as well as my friend.

You can also follow My Simple Kitchen on Bloglovin'
XO – Samantha
P.S…My site was down for a short time yesterday, so if you didn't get to see my guest post with Style by Kristen Blair, please go check it out. She's so chic, and said the nicest things about me. *Blush*