Hooray for hump day!! I dunno about y'all but I am in need of a weekend already – this week has been bananas!! The nesting phase has absolutely kicked in and I spent the last two days putting up Christmas, finishing the nursery, packing the final hospital bag necessities, and moving around all the furniture in my house. No joke, my glass and marble bar even got moved (because the location and setup of my BAR totally matters right before bringing a newborn home)…my big ol' preggo butt took it apart shelf by shelf and carried each (ridiculously heavy) piece to it's new location. I'm sure my OB would be thrilled. Also finding new homes in my house: my wingback chairs, hallway table, stendig calendar, Harper's standing nursery lamp, two giant mirrors (switched for shape), and my 9 foot christmas tree. Ba-BAM! Mama's been busy. Someone who has NOT been busy, at all, lately is my baby. I have now had Non-Stress Tests done at both my weekly check-ups and will continue having them weekly until she arrives because she is a sloth. I think she's just about out of room and can't hardly move around anymore, but my doctor is closely monitoring her because of it.
In other news, I have a very special post for you today thanks to P+P's newest Fashion contributor (and total babe), Emily! You might remember Em from this (super old!) post where we styled Cobalt Blue together. She is gorgeous, has such amazing taste, and the absolute sweetest personality to go with it. Go check out her blog, The Style Hunter if you're not already following her. You can also find her on Instagram, where she posts tons of great OOTD's.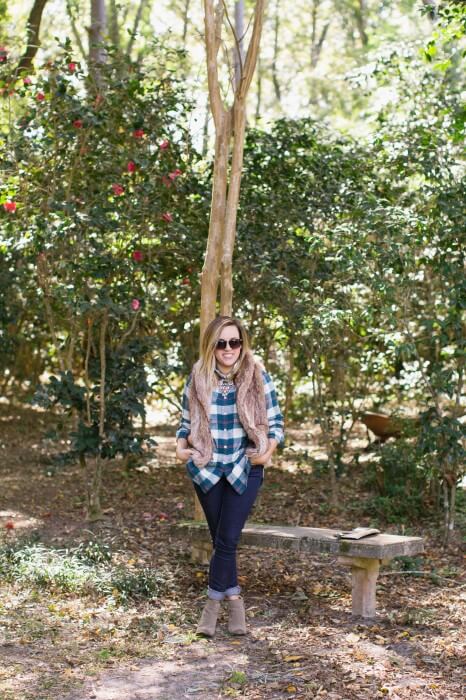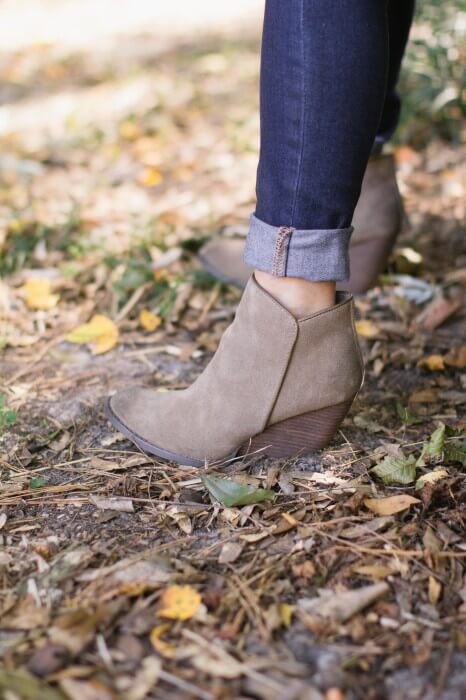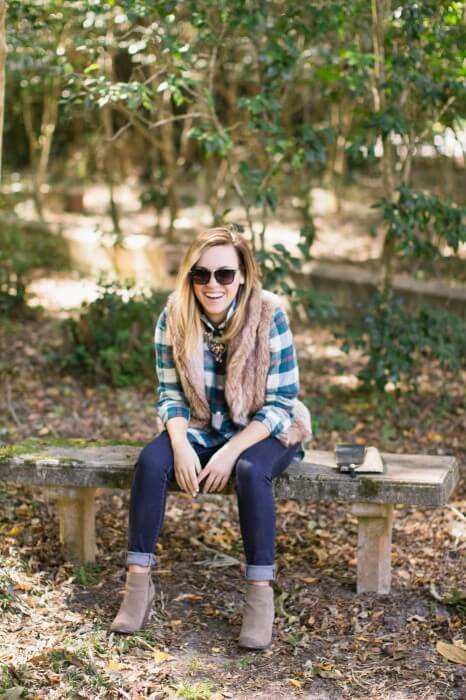 There are very few things I can honestly say are staples in my wardrobe. I love to switch things up, make unexpected pairings and take advantage of the fact that trends change every season. Adding items to your wardrobe that will make an impact are my specialty. Currently these items include, but are not limited to…
1. Gigantic, slightly obnoxious sized baubles. Statement necklaces are a favorite.
2. A good leather top. I've currently got a short sleeved and a crop top version.
3. A crimson colored lip. Or really any bright lip.
4. A wool fedora.
5. FUR. Fur vest. Fur jacket. Fur lined hoodie. (faux fur of course!)
The only way these show stopping pieces can reach their full potential is by the great basics that become a canvas. For example, in this look, denim and a great flannel plaid with a neutral bootie make the other pieces shine.
If you find a pair of jeans that speak to you, hug every curve and make you think they were literally painted on, do your Superbowl touchdown dance in the fitting room. Make sure your booty looks good. Give yourself a pat on the back and then buy multiple pairs. My newest favorite has to be the Lookout High-Rise from J. Crew. They suck you in, and give every one I've seen try them on that hourglass figure. And who doesn't want that?!
This fall, and every fall I think, plaid is always a staple. It just works. And this one, also from J. Crew (shocker), does not disappoint. For those of y'all that don't know, I am a vPS (very personal stylist) for J. Crew, so basically I fall in LOVE with everything they do, the second it hits the floor. And let me tell you, this flannel sold out at my store in a matter of days. INSANE. But it's that good.
What are some of your staples and some of your more trendy items for fall?!
xo, Emily