We're halfway through the week, loves! We will survive…at least that's what I keep telling myself. It's been one of those weeks for me. (You know, the ones that call for wine for breakfast…what? You don't do that ever?)
I have Emily of The Style Hunter guest posting with me today, and we are showing you a few ways we've been styling Cobalt Blue into our wardrobes. First of all, I just have to tell you how much fun this adorable girl is; she's pretty much the most fantastic person ever! I think Emily has great taste, so of course I follow her blog, but it's her pictures that I love most. She's always so happy, and looks carefree and like she's having a blast! She never looks like she's taking things too seriously….here are a few pictures to prove it. (Sorry Em, you're just too cute to keep all to myself.)
Here's a little about Emily, her darling blog, and how she styled cobalt blue:
~
Hi! I'm Emily, author of TheStyleHunter. I'm the girl that loves all things fashion. I am utterly obsessed with texture, pattern, shine and a bit too much. A girl that will wear red lipstick to a football game or layer on baubles for a trip to the grocery store. I love a good bargain and believe that the happiness in life could come from a walk around your favorite store.
Pops of color are what I'm about. Having everything else be basically neutral, with one bold color as the focal point of your look. In this case, the cobalt blue pants are clearly the star of the show. I found them at the LOFT and fell hopelessly in love. A good pair of pants is like a good car. Side note, ironically my car is blue. Hmmm, I may quite possibly see a pattern emerging. You need something reliable, that won't stretch or break down (i.e. rip or get a hole unexpectedly) and one that will be a showstopper. Clearly these pants do the trick. Add a dash of leopard, since leopard is indeed a neutral and you are set. I will add leopard to any and every outfit I can, it might be an addiction, but one I wear proudly. Another thing I like to do when creating an outfit is to add something unexpected. I like mixing colors or patterns that some wouldn't necessarily think of. These (on sale at Target) Sam & Libby pumps for $11 do the trick. A little bit festive, but not as dominant as the pants. That is the key to mixing. When mixing unexpected items, have one still be the dominant so that they don't compete, but compliment in a new way.
You can shop my look here:
xo, Emily
~
Now that you've fallen in love with her too, you can
follow her on bloglovin' here
.

Neither Emily nor I knew what the other person was doing for this "challenge", which honestly made it that much more fun to see the final pictures. I styled my outfit for cold, and colder weather. Austin can't make up it's mind and decide if it's still fall or full-on winter yet. Here's a glimpse of what I wore…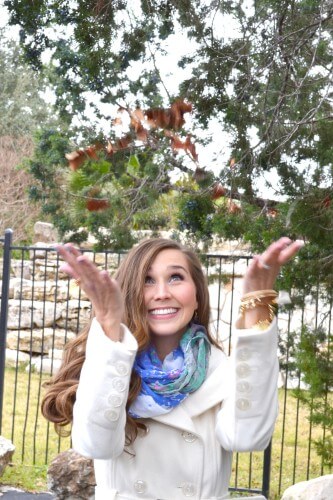 Come visit me over at The Style Hunter to see the rest of my pictures, and to shop my outfits.
We're also super excited to be giving away this gorgeous blue ombre scarf from Shoptiques!
Enter the giveaway below. Hope you all have a wonderful Wednesday…and if all else fails, pop open a bottle and pour yourself a glass. It's gotta be 5 o'clock somewhere!!
XO – Samantha