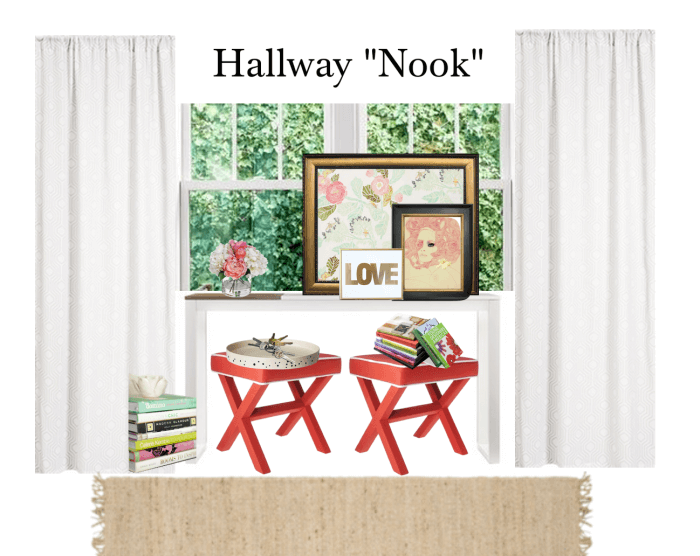 Good Morning! How was everyone's weekend?
Last week felt very hectic, and I'm so sorry to have left you all hanging. I feel much less chaotic after a nice relaxing weekend, and I've got some good stuff for you this week.
Today I'm bringing you yet another design board. My husband and I have always used our back door (coming in from the garage) as our main entrance. It's a long hallway that passes the laundry room, bathroom, office, and then finally spits you out into our main living space (kitchen, dining, living room). We don't have any designated space for setting down keys, mail, etc. so they all end up on the kitchen counters, dining room table and it creates a mess. I despise clutter. I also hate that we have such a bare "entry way" that doesn't reflect the rest of our home.
In an attempt to create a more organized space, I designed this "nook". A console table, two x-benches, a place to set our keys and mail, and an area that rises to meet us when we come home. That's what your home is supposed to do, right? Be functional, and also beautiful.
Our walls are a light cream color, so I wanted whites and vibrant colors to brighten the space. There's a large window, so curtains are a must. Layered art and books are throughout our home so I had to add some here as well. (In all honesty, I just have an addiction to art, pillows, and coffee table books….)

I purchased the benches from target, which were also featured in this post. The console is from Overstock, but hasn't arrived yet. I'll let you know if it's of good quality and provide links after it arrives.
I'm DIY'ing some art using scraps of Camryn's new wallpaper, and using art that I already own. You can check my Instagram for pictures! I'm also using trays, bowls, and accessories that I already own. Do all of you "shop your home" for decor? I'm constantly stealing bits and bobs from different rooms of my house and rotating accessories. It keeps things constantly changing, and evolving. (I might also have closets full of decor, because like I said before, I have an addiction)
What do you think of my work-in-progress space? Leave me any ideas or suggestions you have in the comments! I love hearing your opinions and advice!
I'll continue updating with progress pictures, and links to all the products (if they're good).
XO – Samantha