Happy Thursday! Happy because there's only 1 more day until the weekend, but also because I have one of my favorite companies to share with you guys today, as well as a coupon code.
You've all heard me talk about Vonbon before, but my love affair with this company is so strong that they deserved their own post!
I've searched for scarves for my tiny lady since she was old enough to wear them, and could never find anything that was modern, well made, and in her size. I started buying adult scarves for her (not cheap), cutting them in half (what a waste), and sewing them into little infinity scarves (I'm terrible at sewing, even straight lines)…then I discovered Vonbon, and the addiction started.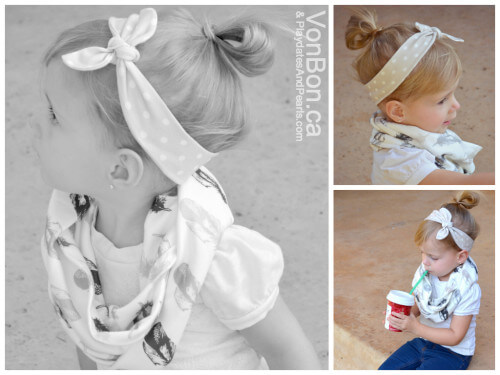 Jennifer and Kristen, two absolutely stunning sisters, created the Vonbon brand out of their desire to fulfill the need for quality, organic, and beautiful products suited for both mother and child. Tired of giving their expecting friends the traditional baby gifts, they began creating goods in neutral and sophisticated patterns that were easily transitioned from outfit to outfit, as well as being gender neutral. Vonbon uses only premium, organic fabrics, water based inks, and to ensure quality, they're printed in small batches. These ladies are so incredibly sweet, and seriously care about their customers. Working with them has been so fun!
If you follow me on Instagram, you've seen Camryn rocking her Vonbon frequently. Here are a few of my favorite pictures of her wearing the neutral feather infinity cowl, neutral triangle infinity cowl, and the nude polka dot headband.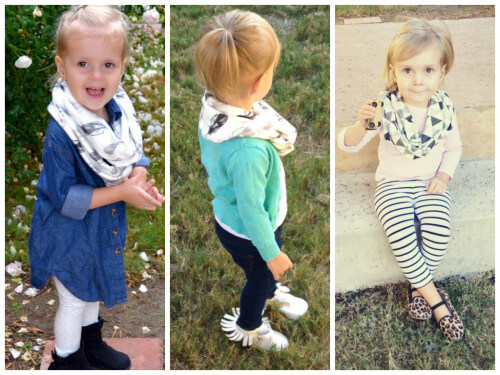 Are you in love yet?
The first thing most moms want to know is "How do they wash?', and the answer is GREAT! See that red frosted cupcake? Y'all know it t went all over her scarf, but you'd never even know now. A gentle cycle later, and it was good as new. The products are so well made, and I really appreciate that the children's infinity cowls come in a generous size, so I don't have to worry about Camryn outgrowing them anytime soon. I can actually wrap them around her neck 3x's if it's extra cold outside and I want her neck to stay warm and have the ability to zip her jacket all the way up. The neutral patterns make mixing and matching headbands and infinity cowls so easy, but doesn't give off that "matchy matchy" look. I know these will still be favorites of mine when we decide to have baby #2, and they'll look just as adorable on a boy or girl.
Here are some other Vonbon items that I'm currently lusting over:
Gray Antler Blanket – This would be so great in a boys room, or in a girls room in need of a masculine touch to balance the pink. It's the perfect size for tummy time, swaddling, or as a car seat blanket.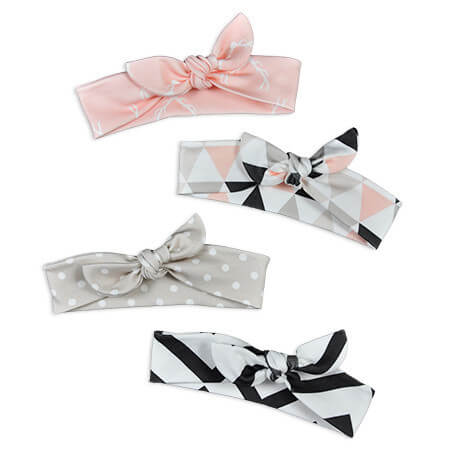 Why don't these Stella headbands come in my size?! They're seriously adorable.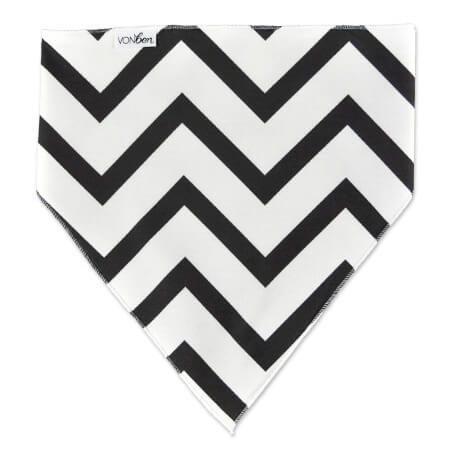 What baby wants to wear a bib when they could wear this black & white chevron bibdana?

Burp cloths that won't make you cringe.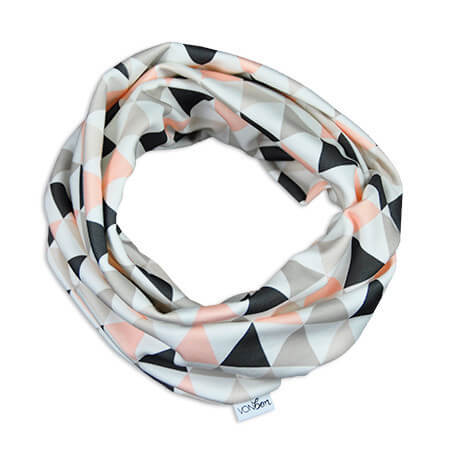 Adult Infinity Cowl in Blush Triangles
The girls at Vonbon are giving all of you a 15% discount on your total order until December 12th with code VONBONPEARLS
Go get your Vonbon on, and snag some Christmas gifts for friends!
Be sure to enter the 3 GIVEAWAYS while there's still time!
Giveaway 1: https://playdatesandpearls.com/on-the-first-day-of-christmas/
Giveaway 2: http://playdatesandpearls.com/on-the-second-day-of-christmas/
Giveaway 3: https://playdatesandpearls.com/on-the-3rd-day-of-christmas/