So I finished taping, and sealing, and painting my accent herringbone wall…and it turned out HORRIBLE! I kid you not, when I started pulling the tape, and the paint started peeling, I nearly cried. I'm in touch-up hell. I should have known it wouldn't be perfect with my textured walls, but I was really hoping it miraculously would be.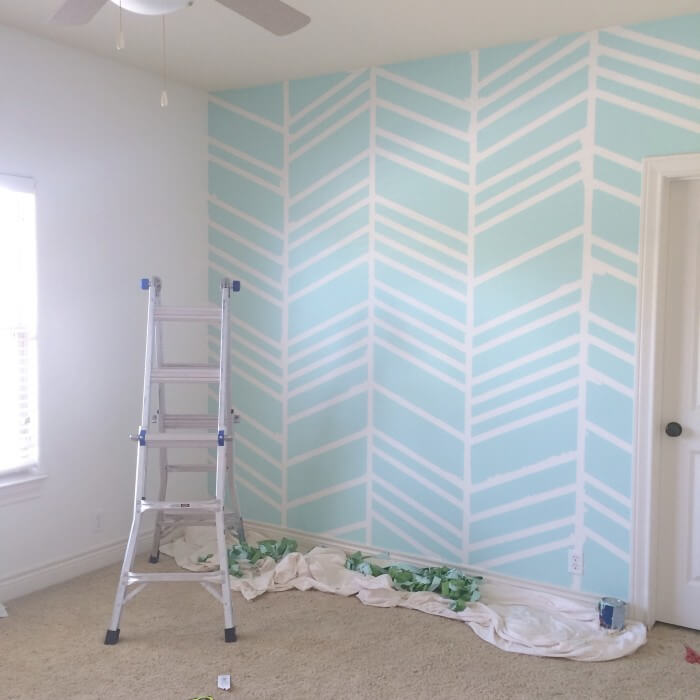 Cringe! Look at all those jagged lines that I have to fix.

(The coloring looks slightly more blue in this photo than in person.)
In other news, I think I'm slowly beginning to nail down some of the other room details (fabric, furniture, art, etc.) Here's a glimpse at what I'm envisioning so far…Oh, and did I mention we named our little lady?!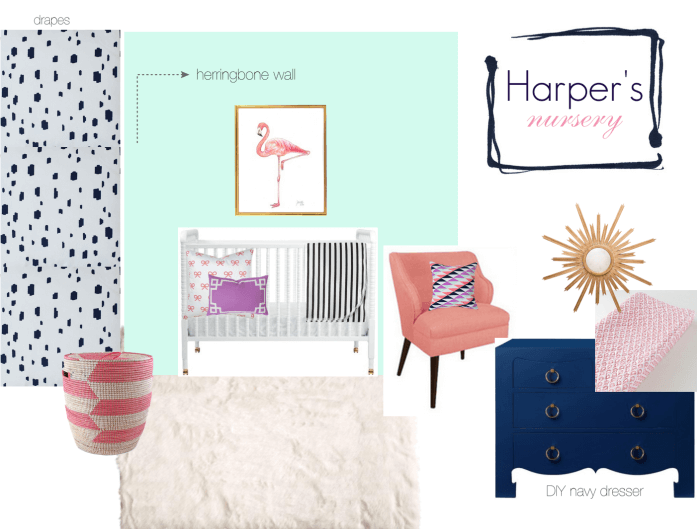 You'll have to use a little imagination, but this is the basics. I'll actually use this art in a thick matted frame, which should help break up some of the herringbone wall. I'm DIY'ing Camryn's dark wood dresser and updating it with some brass pulls. The fabric for the pillows and custom drapes are from Caitlin Wilson's Tribeca line, and she is currently running a 15% off coupon with code FREEDOM15.
The gorgeous coral midcentury armchair – SWOON – was a gift from my husband. I'm smitten.

We have a big (ugly, but uber comfy) rocking armchair that will be in our master bedroom for late night feedings, so my pink chair is really just for sitting and staring at my beautiful baby when she arrives, and admiring her bedroom that's prettier than my own. Why is it that our kids always end up with more thoughtfully designed, and nicer looking bedrooms than our own?! W.T.H.
I've had questions about how I created the herringbone wall, so for those of you interested (and crazy enough like I was), I will post a tutorial soon.
XO – Samantha