Happy Friday!!!
My daughter and I both caught colds this week, and have been laying pretty low, trying to recover. Usually my husband is the culprit bringing home germs and whatever illnesses are running through his office, but this time I think I was the dirty bird who got us all sick. Wahhh!
I have been watching Orange is the New Black on Netflix while trying to recover, and I'm a little bit obsessed now. You guys, this show is CRAZY!! I keep catching myself getting all sassy (while drinking my chai tea, and hugging my box of tissues) and *Z snapping* at the screen, saying "Yeah girl, you tell her!", and "Oh no he didn't!". I do the same thing when I watch Sons Of Anarchy. I'm an embarrassment to my family.

Are any of you watching the show too?
If you missed yesterdays post, go enter the giveaway here. You can win the prettiest Anthropology apron and the "Can't Cook Book".
Here are all the other things I've been loving this week. Enjoy!


1.|| I love this DIY gift guide from Lauren Conrad. These mugs are my favorite.
2.|| Please tell me you've seen this ridiculous Kanye West video. Is he serious? I love Ellen's reaction at the end.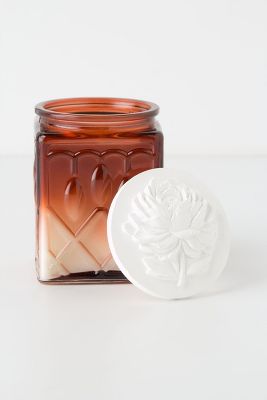 3.|| I bought my sister this candle for her birthday in April, and everytime I go to her house I smell it because it's AMAZING. One of the best smelling candles ever. This would make a great gift.
5.|| I received samples of the Guerlain Lingerie De Peau foundation with my Sephora orders, and it might just be my new holy grail product. It's has absolutely blown me away, and I'm adding it to my Christmas list. (Dear Santa, I wear color Beige Clair 02) If you'd like to see me do product review "vlogs" or a tutorial on how I apply this, please leave me a comment down below. I've been on the fence about doing the occasional youtube video for "favorites of the month" videos, and product reviews like this. I know I always enjoy seeing a product used before purchasing.
6.|| How fun is this Christmas Bucket! Kids unwrap an activity a day, for example: write letters to Santa, make homemade ornaments, sort through toys to give to a shelter, go look at Christmas lights, hot chocolate before bed, Christmas movie and so on. I found this little gem on Pinterest, but couldn't find the original source.
7.|| This book looks like DIY heaven.
8.|| Jennifer from The Chic Pad introduced me to High Street Market recently, and it's so good! Definitely worth checking out. She's rounded up some of her favorite pieces from there, so you can check her blog for a designers picks.
9.|| This post from Kristen of 6thstreetdesignschool was so refreshing. My previous home looked absolutely nothing like my current home. Pinterest and beautifully written blogs like Kristin's have giving me a completely different look at interior design.
10.|| Awesome video from Fun Fun Fun Festival 2013 of the SprATX artists. They sell art and shirts designed by extremely talented local Austin artists.
I am starting to put together Holiday Gift Guides for you, so leave me a comment below if you want a specific type (ie: Kids, Co-workers, Husbands, or if you want me to focus on a store, like Target, etc) Wishing you all a great weekend!
XO – Samantha