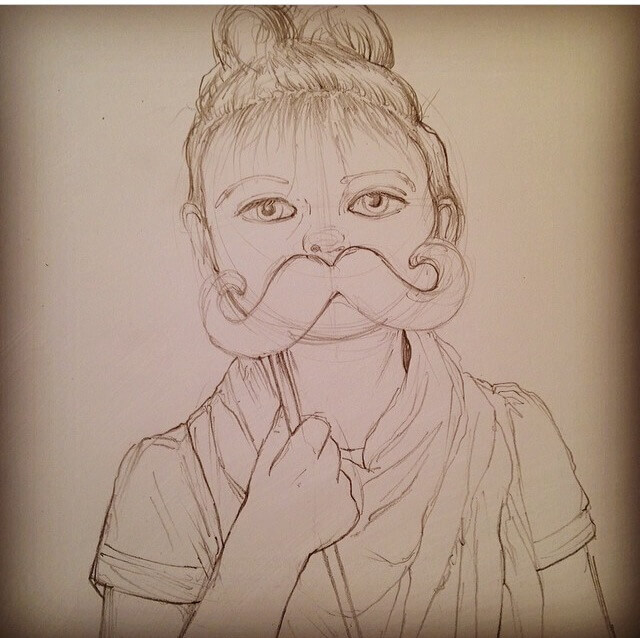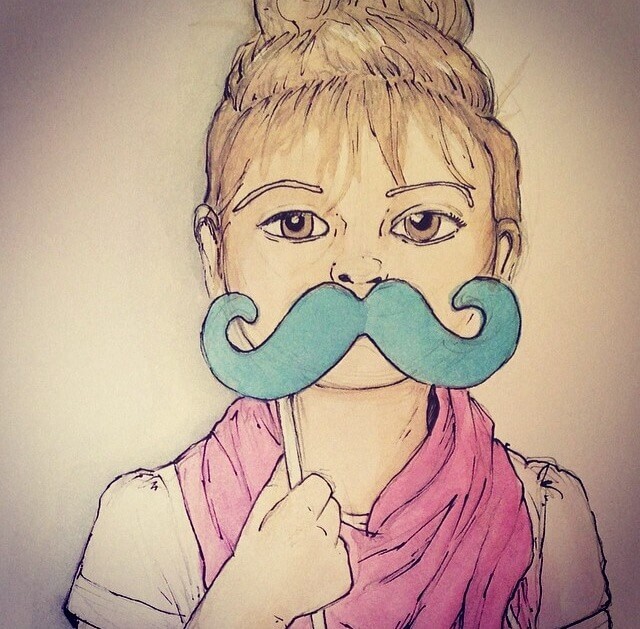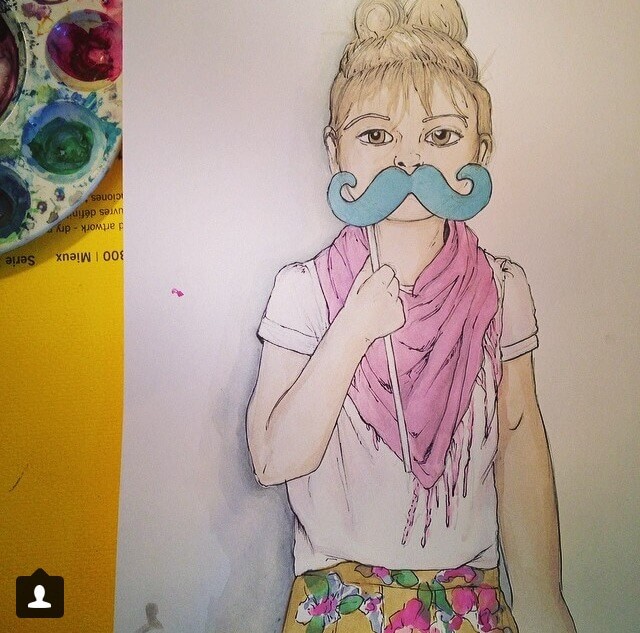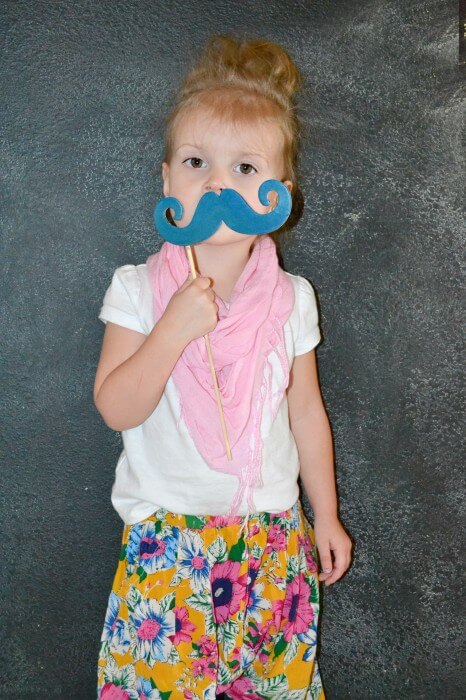 I met the sweetest, and most crazy talented artist, on Instagram. Her name is Talia Handler (@taliahandlerart), and she went to Parsons School of Design, and dreams of being a childrens wear designer. She draws and paints the most beautiful portraits using photos straight from your IG feed if you want.
I followed her for a couple days, and knew quickly that I wanted her to paint Camryn, so I e-mailed her and let her choose any photo from my Instagram. About a week later, the first sketch popped up in my feed, and then the painting, followed by a close up. I was dying; they turned out even better than I had ever imagined. The painting is so detailed, and rich in color, and blows my mind everytime I look at it. I was so happy that she chose a fun picture of Camryn, and know that it will forever be a conversation starter when people see it. I'm calling it "The blue mustache lady".

My husband has already claimed it for his office, and it's currently being matted and framed. I guess I'll just have to order another picture for myself.

If you are interested in commissioning a piece from Talia or just want to see more of her awesome work, check our her Instagram feed, and her website. You can also e-mail her at trhandle@gmail.com. She's super nice and will gladly answer any questions you might have. She also offers multiple size options for portraits, and will paint your animals or anything else you might like. These portraits would be an amazing gift for family, and friends, brides, and especially for a new mom. I'm pretty sure my sister-in-law is getting one of these of my teeny tiny nephew when he arrives.
Go say hi, and oohh and ahhh over her art! She also posts pictures of her clothing designs, which look awesome, and I can't wait for her to launch her line.
In other news…
I had my hair done yesterday! I started posting sneaky pics on IG, but wanted to save the "big reveal" for all of you today. I went to milk + honey salon (and spa) and spent wayyyy too much time showing my stylist pictures and trying to explain what I wanted. Yes, I'm that girl…you know, the one who says stupid things like "I want my hair ombre, but I want it to look really natural", or "I want to cut my hair, and change things up, but I don't want to lose any length"…helpful, right? She had me pull up my "hairspiration" pics, and pretty much knew exactly what to do from there. My hair is crazy THICK and LONG, and it turns into a giant knot if you even look at it the wrong way, so she had her work cut out for her.
She started by back combing my hair (I knew right then she was going to have a hell of a time getting those knots out), and then applied 3 different colors/bleaches (I dunno what they were, sorry!) to the ends. I looked like a tin foiled lion for awhile. After she rinsed the bleach, she had to brush out all the knots…she had to call in reinforcement, and it still took awhile, and did not feel awesome on my scalp. I joked that it was a form of torture.

I do not think that madness happens to most people, so don't be scared to try this, it's just my hair.
Because I was so nervous, and scared of anything too dramatic, she blended the color really well and kept most of the color to the very ends. I'm in love with how it turned out. IN LOVE.
I made my hubs take pics for me last night, and it was dark outside already, so crappy, indoor (flash) pics are just what you're gonna have to live with. Ready?!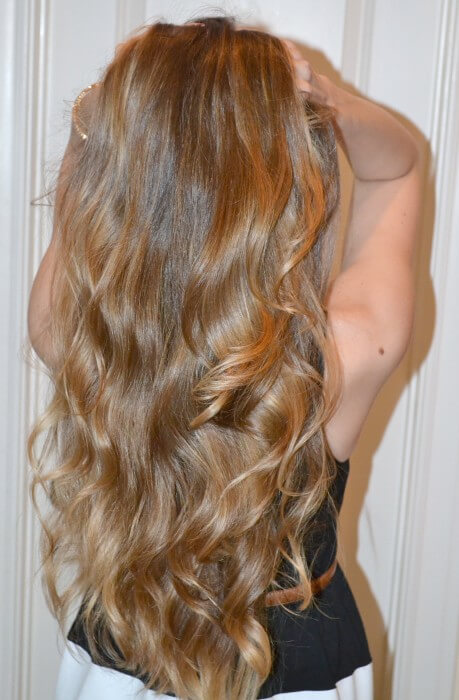 Pretty close to my inspiration picture, right?! …and here's a picture without flash.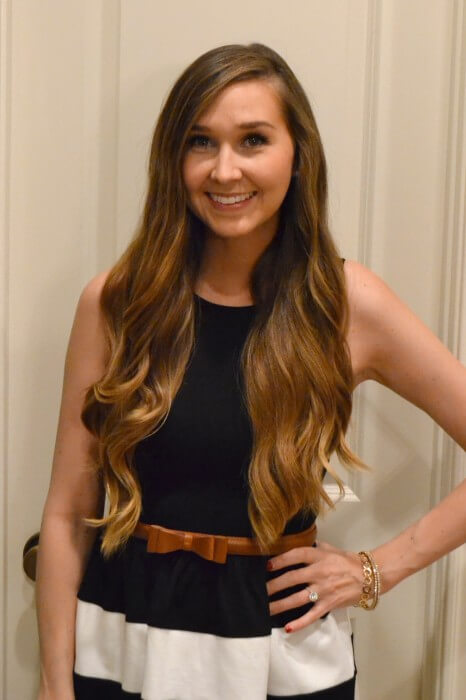 The lighting was creating a red-ish shadow (you can see it on my face and arms too) so my hair looks slightly more auburn/brassy in this pic than it does in real life. She faded the color in so well that you can hardly notice how blonde the ends are, but if I hold them up to my roots it's a HUGE difference in color. I'll post more pictures on IG for you all soon. I'll also update with a photo of our framed blue mustache lady soon.
I hope you're all having a great week!
XO – Samantha