I had a few requests lately for my daily skincare and makeup routines, so I put together my everyday/basic makeup must-haves. I will go through my morning and evening skincare routines with you soon.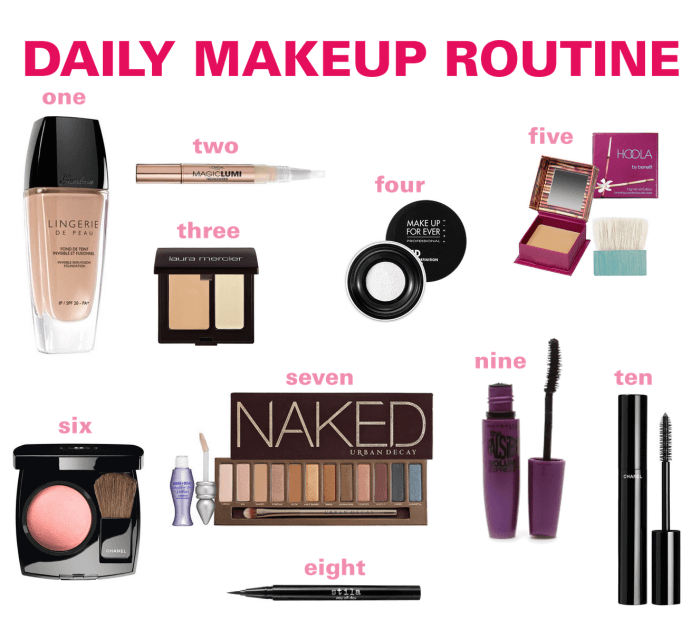 1.|| Following my skincare routine, I begin my makeup with foundation. I rarely use primer unless I really need my makeup to last a long time, or I'm doing a heavy makeup look and want a perfected complexion. I am currently using Guerlain Lingerie De Peau in 02 Beige Clair.
2.|| I have dark circles as well as visible veins under my eyes, so I prefer a brightening and hydrating concealer for my eye area. I use Loreal's Magic Lumi in Light. If I'm looking for a more full coverage concealer, I turn to Bobbi Brown's Color Corrector in bisque.
3.|| I conceal all other blemishes with a matte concealer. Laura Mercier's Secret Camouflage concealer is perfect for mixing and matching my skin tone year round. It offers very full coverage.
4.|| I set my concealed areas (under eyes, blemishes) with Make Up For Ever HD Powder. I have dry to combination skin, so I rarely powder my entire face, only where I need it. This powder is made of natural silica, which helps fill in fine lines, and smooths/blurs imperfections.
5.|| I have a round face, so I always contour using my Benefit Hoola Bronzer. I run it under my cheek bones, on my temples and hairline, and under my chin.
6.|| My favorite blush is the Chanel Rose Initial. It offers the perfect flush, but never looks over the top. Just a little on the apples of my cheeks.
7.|| I don't always apply eyeshadow, especially if I'm just running errands with Camryn, or playing at the park. If/when I do wear eyeshadow, I grab my Urban Decay palettes most often.
8.|| I line my upper lid using Stila's Stay All Day waterproof liner. I tend to have oily lids, and this eyeliner doesn't budge. I like to have a cat-eye effect with my liner, and the very thin applicator makes drawing a precise line much easier than most eyeliners I've tried.
9.|| Before applying any mascara, I curl my lashes really well. I have stick-straight lashes, and have to apply a waterproof formula first to hold the curl. I have been using The Falsies for as long as I can remember, and I love, love, love it! I prefer the original "black drama" formula.
10.|| If I'm looking to va-va-voom my lashes, I'll add a coat of Chanel's Le Volume mascara. Trust me, you only need one coat. The formula is very wet, very volumizing, and creates a dramatic, false lash look. I always get compliments when wearing this mascara.
You may have noticed that my brow routine was left out, and that was for a reason. Eyebrows are so important, and frame your eyes, and I'm always on the hunt for the best products. I've been sampling and testing many brow products lately, and will be reviewing my favorites for you soon.
What are your must-have daily makeup items?
XO – Samantha