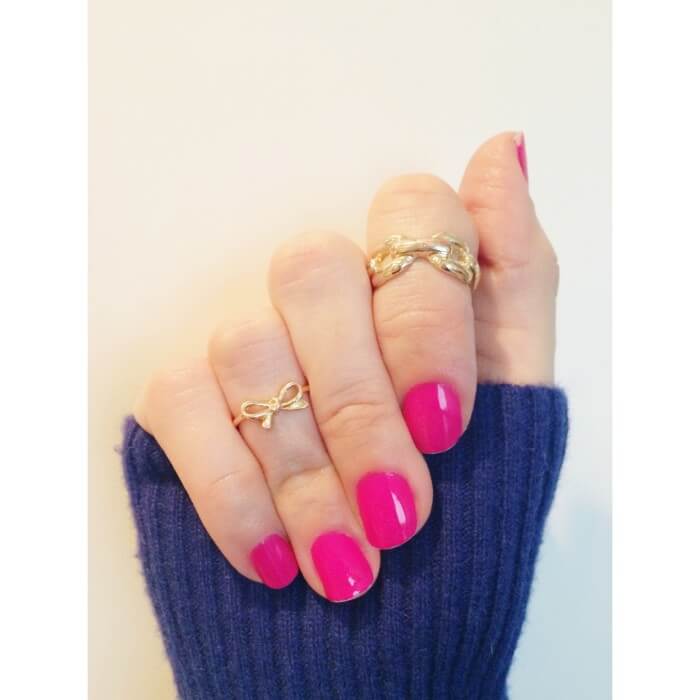 There are a few things I love most in life, and one of those is bow jewelry. Maybe it's the chic, Kate Spade-esque look of a bow, or my undeniable love of presents that has me swooning. I have necklaces, bracelets, earrings (that I wear daily and my sister hates because they are beginning to tarnish *insert sobbing here*) and now I have the most gorgeous little midi-ring thanks to my friends at Tres Chic Boutique! If you've never owned a midi ring, let me go ahead and answer the 2 questions I know you're wondering about – 1. Yes, they're comfortable. 2. No, they will not fall off your finger. If you have a toddler aged child, it will fit them like a standard ring fits you. My 3 year old thinks this ring is hers, despite my insisting it's actually mine, because "…but Mom, it fits MY finger better!"

Don't be fooled by all my bow talk; Bows are not the only jewelry I'm swooning over from Tres Chic Boutique…I'd also take this, this, this, and these (which I find hilarious) in a hot minute!! They offer such great prices, especially on large statement necklaces.
Now for a fun little giveaway where EVERYONE WINS!! You will win either a $5, $10, or $15 gift card to Tres Chic Boutique, and entering is easy as pie!
Everybody Sparkles Giveaway Rules:
1. Sign Up Via E-mail Here
2. Follow @treschicny on Instagram
3. Leave a comment on MY (@playdatesandpearls) Instagram photo telling me which Tres Chic items are your favorite!
XO – Samantha