My husband and I have been talking about moving Camryn into a big girl bed for a few months now, and I think it's nearly time we actually made the transition. She currently sleeps in her toddler bed and has done great in it. We never have issues with her getting in and out of bed throughout the night, and she's never fallen out of bed, so I feel safe moving her into something bigger. We have a full size bed for her, but I need to buy a new headboard and change up her room decor. I want to design a space that she can grow into for awhile, and that can have minor changes made without having to overhaul the entire room.
Here's what I currently have my eyes on: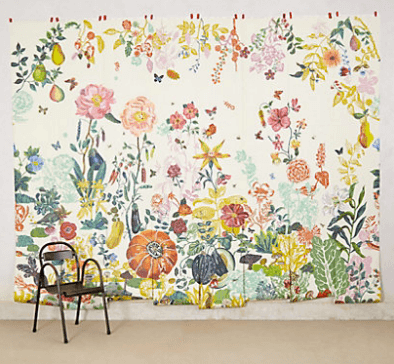 Anthropologies Great Meadow Wall Paper
To say that I'm in love with this wallpaper would be an understatement. It's so whimsical, and reminds me of the Secret Garden. It's the perfect artistic piece for any girls bedroom, and I know my tiny lady would think it's pretty amazing. I also love having such a big palette of colors to work from, which will make changing small pieces in her room as she gets older really easy.
Here's what Anthropologie says about the artist, Nathalie Lete:
"French art and designer Nathalie Lete works as a solo artist, creating paintings, ceramics, textiles, jewelry, books and toys centered on themes of fantasy, humor and childhood memories. With this limited edition, grand-scale floral mural, the artist awakens the child-like wonder in all of us, leading one to imagine what it might be like to be minute amid a verdant meadow."
Camryn's room is currently painted a light grey, which I'll repaint in Benjamin Moore's Swiss Coffee. This color is a beautiful creamy off-white, without any yellow tones.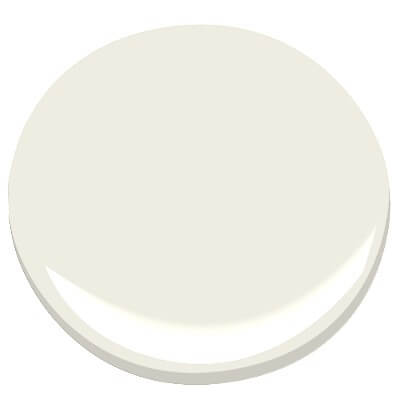 I found a darling pink headboard at Costco…
The photo does this headboard no justice. Here's a photo of the headboard in a girls room designed by the uber talented Kristen of 6th Street Design School.
There is a large dark wood dresser that I considered painting, but because it's such an expensive and well made piece, I might leave it. The dark wood might be a nice contrast to the otherwise bright and colorful room. The nightstand needs to take up little space, and not obstruct too much of the beautiful wallpaper…I'll let you know when I find something.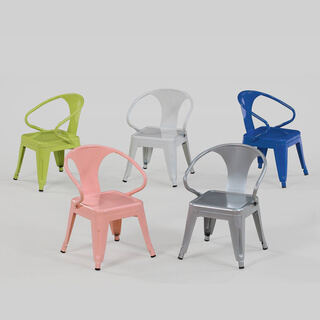 I want to make Camryn a little desk area and I found these darling industrial chairs thanks to Erin of Candy Kirby Designs. They are exactly what I've been looking for.
I also found 2 beautiful rose gold polka dot pillows at HomeGoods. They look exactly like these, but in a rose gold coloring:
Camryn has a huge window seat (with storage – Hooray!) that I want to have a custom cushion made for. I want to pile on a bunch of pretty and comfortable pillows so her and I can lay and read books, watch the sunsets, and look at stars from her window.
I'll keep updating as I make progress on her room over the next few months. If any of you have good decor suggestions like lighting, a nightstand, bedding, etc. then leave me comments below.
Tomorrow's Friday, so go grab yourself a coffee and keep on truckin', because I can see the light at the end of the tunnel. There's also a new Camryn Daily photo up if you haven't seen it already. We had a little rain yesterday, so we threw on our Hunter Wellies and puddle jumped for a bit.

XO – Samantha